Since its inauguration in 1998 the John Curtin Medal established by Curtin University has been used to recognise members of the community who shared John Curtin's attributes of vision, leadership and community service.
2021 John Curtin Medal Winner
Past winners
Shelley Skinner (2020)

Working as a palliative care social worker at Princess Margaret Hospital, Shelly Skinner saw first-hand the immediate and long-term impact death had on families, and particularly on young children. Shelley decided she wanted to help and collaborated with like-minded colleagues and was able to launch a day camp program to provide support for bereaved children ages 8-12. This then led to the creation of Lionheart Camp; designed to provide ongoing support and guidance for surviving families and a compassionate community for grieving children and adolescents.
When Silver Chain could no longer support Blue Skies, Shelly considered setting up a charity to facilitate the camps so ongoing support could be provided to families in need. This led to the creation of Lionheart Camp for Kids (Lionheart).
Each year Lionheart offers camps to bereaved children aged between five and 12 years. The camps also provide guidance to the surviving parent or guardians. Critically, the camps and all Lionheart services are free to grieving families. Additional camps have recently been designed for adolescents affected by the death of a family member.
Shelly's passion for Lionheart is infectious and drives the organisation. In addition to her work on the camps, she leads community engagement, building relationships and partnerships with like-minded organisations, and advocating for Lionheart to raise funds. Her innovative ideas have meant that Lionheart has been able to progress towards its aim of long-term sustainability, as well as adapt to the COVID-19 environment and provide ongoing support to families which have previously attended a camp. This ensures Lionheart remains in touch with and strengthens its community even during a time of physical isolation.
Shelly's ultimate goal is for Lionheart to be part of developing a connected, compassionate, and caring society, where grief is seen as a natural, healthy response to loss, and where no child grieves alone. She is a very worthy recipient of the John Curtin Medal for 2020.
Patricia Tibbett (2019)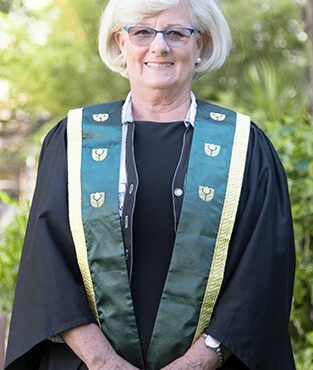 Patricia Tibbett has played a key role in transforming nursing as a profession in Western Australia. She implemented key changes in the career framework for nurses that, for the first time, recognised the value of clinical nursing, and she fought hard for the delivery of patient care by nurses to be as highly valued as nursing management and education.
Patricia's lifelong contribution to nursing began decades ago, when nursing was taught as vocational training and entrenched in a conservative and hierarchical health system that mirrored traditional views of women in society.
Patricia held a clear view that nurses – and the women who almost exclusively made up the nursing workforce – were critical to modern health care delivery and essential to ensuring excellence in care for patients and the community. To be more valued and effective, she believed that nursing had to be professionalised through the creation of more robust clinical and research pathways.
In delivering her vision, Patricia led changes on two fronts. The first was to implement an improved career framework for nurses. She set about the complex negotiations required – facing the conservative terrain of health departments and hospital structures, powerful lobby groups (including the Australian Medical Association), diverse representative and union groups, and traditional teaching colleges. After significant consultation, she arrived at a feasible career structure that could be interpreted industrially, function across a broad group of health delivery settings and be true to her vision of professionalising nursing.
Having achieved this, Patricia moved on to become one of the most influential Directors of Nursing at a West Australian hospital. At Royal Perth Hospital she oversaw the implementation of the clinical career framework, then played a key role in broadening the internal management structure to include nurses as key directors alongside their other professional colleagues. This became the blueprint for organisational management in tertiary hospitals.
While at Royal Perth Hospital, Patricia also initiated the Nursing Research Foundation, which was launched in 2001. The Foundation, built on Patricia's vision, thrives today as a driver of clinically focused nursing research that brings together universities and hospitals to advance clinical knowledge and practice. Importantly, the Foundation has contributed significantly to transforming nursing from a purely vocational calling to a dynamic research-driven profession.
Working more broadly than just the nursing profession, Patricia was also highly committed to the importance of health service delivery and public confidence in Western Australia's healthcare institutions. Throughout her career, Patricia worked tirelessly to engage with all levels of health service providers, patients and the community to ensure this confidence was not undermined or misplaced.
Patricia is regarded by her peers as courageous and determined, yet always polite, respectful and open to a broad spectrum of views. An articulate and effective advocate for the nursing profession, she stepped up to speak on behalf of many, often where no voice had previously been heard.
Now retired, Patricia continues to lead charitable organisations such as the Friends of Royal Perth Hospital and is actively engaged in the continuing success of the Nursing Research Foundation.
For her outstanding contribution to the nursing profession and to health care delivery in Western Australia, Patrica Tibbett is a worthy recipient of the John Curtin Medal.
Leif Cocks OAM (2019)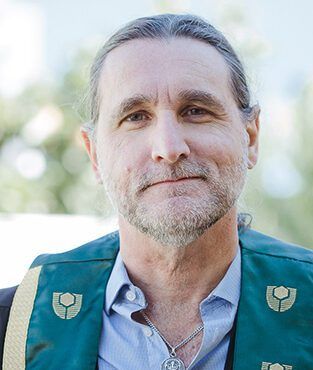 For more than three decades, Leif Cocks has worked tirelessly to improve the welfare of orangutans in captivity and ensure their ongoing survival in the wild. As a zoologist, author, speaker and founder of the international charity, The Orangutan Project, he is a world-renowned orangutan advocate and outspoken campaigner on their behalf.
After graduating from Curtin in 1985 with a Bachelor of Applied Science, Leif began working at Perth Zoo, where he eventually became the orangutan keeper. Fascinated by the animals he worked with, Leif went on to complete a Graduate Diploma in Natural Resources at Curtin – specialising in primate behaviour – and then a Master of Science (Biology) in Curtin's Department of Environmental Biology. Through his work and research, Leif came to the conclusion that orangutans cannot survive through captive breeding programs alone. The only way to ensure their survival is to save them in the wild.
Leif founded the Australian Orangutan Project (now The Orangutan Project) in 1998 and has been President of the organisation since its inception. The organisation aims to raise public awareness and funding to increase numbers of the endangered species in the wild. His vision is that all orangutans live in their natural habitat in secure and viable populations.
Since its formation, The Orangutan Project has grown from just three volunteers to become a highly respected multi-million-dollar international charity. It has contributed more than $14 million directly to orangutan conservation projects and has earned a reputation amongst its partners and donors for being financially responsible and transparent.
Respect for Leif has given The Orangutan Project world standing in conservation. He has been a key player in developing conservation plans for orangutans – including the first ever successful introduction of a zoo-born orangutan into the wild. Leif's conservation work has had an impact not only on orangutans, but also on the environment, other species and the local Indonesian communities that call these forests home. The introduced animals are now thriving, and the associated publicity has meant that the animals' ecosystems are more likely to be protected from logging and plantations.
In the past 20 years, The Orangutan Project has won three major legal cases against deforestation and rescued 84 orangutans from dangerous captive situations. Leif continues the fight for orangutans in the court room as an expert witness. In 2014 he was called upon as a world-renowned expert to testify in an Argentinian court case for an orangutan in the Buenos Aires Zoo. Through his testimony, it was decided that the animal did have rights and the Zoo had to provide an adequate habitat and activities for the orangutan to thrive.
Leif is also President of the International Elephant Project, International Tiger Project and Wildlife Asia, the Vice-President of the Orang Utan Republik Foundation, and sits on the Technical Advisory Boards of several Indonesian conservation organisations.
Incredibly, he has also found time to author three books – Orangutans and their Battle for Survival, the #1 Amazon Best Seller Orangutans My Cousins, My Friends and Finding Our Humanity, which launched in April 2019.
Intelligent, engaging and driven, Leif is the sort of person who would succeed at whatever he turned his hand to – yet he has selflessly dedicated his life to protecting his beloved orangutans. He has been quoted in the media as saying, "It's an all-consuming thing which might not necessarily bring financial or academic rewards, but the rewards are achieving a higher goal for conservation and animal welfare."
For his tireless work to protect orangutans, Leif Cocks is a worthy recipient of the John Curtin Medal.
Fay Alford (2018)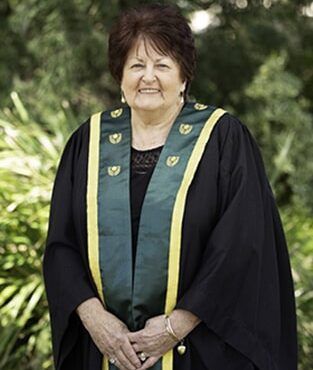 For more than 35 years, Fay Alford has dedicated her life to Western Australian children and families in need of foster care and advocacy services. She is now one of the State's most knowledgeable, well-respected and active leaders in the out-of-home care system.
Having herself been a child in care when she was just eight years old, Fay's early experience of the out-of-home care system was traumatic. However, it also gave her the knowledge, commitment and vision to flourish throughout a lifelong career in the foster care sector.
After working on a volunteer basis for many years, Fay became the Director of Foster Care Association of Western Australia more than 14 years ago. As leader of the State's peak body for the support and advocacy for out-of-home services, Fay worked to enhance services, advocate for the rights of children and families and, ultimately, create the conditions that allow families to be strong and to stay together.
During this time, she contributed to State Government policy on frameworks for care and the roles of foster carers. Under the Hon Minister Helen Morton MLC, she was adviser to the Minister for the Department of Child Protection and Family Support.
With Emma White, then Director General of the Department of Child Protection and Family Support, Fay helped to promote the Foster Care Partnership Policy, which emphasises a collaborative process for setting effective policy in WA and, importantly, includes the Aboriginal community sector.
Fay also served as a member of the Out-of-Home Steering Group as part of the State Government's Out Of Home Care Strategic Plan 2015–2020. The plan is currently in the midst of a staged five-year roll-out. Fay is also a board member for Kinship Connections – an initiative to help Aboriginal families heal and reconnect.
Western Australia currently has around 5000 children in foster care and a shortage of foster carers. Alcohol addiction, rising drug use – particularly of methamphetamine – along with increasing mental health issues and family breakdown, continue to have devastating impacts on families.
Fay's career has directly addressed these social issues facing our State, through her enormous contribution to recruiting and training carers, preparing foster families, building community awareness, and advocating for progressive and effective models of care.
Living her own life by the principles to which she has committed, Fay and her husband David have welcomed more than 90 children into their home over the past three decades, while raising their own biological daughters. Fay and David have also adopted three of their many foster children.
Through more than three decades of leadership, courage and self-sacrifice – Fay Alford has committed to a cause that is close to her heart and significant for Western Australia.
She is a most worthy recipient of the John Curtin Medal for 2018.
Susan Saleeba (2018)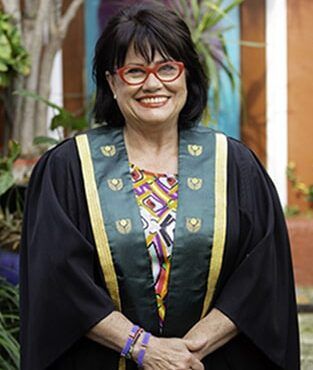 More than 15 years ago, after volunteering in the slums of Kaptembwa in the Kenyan province of Nakuru, northwest of Nairobi, Susan Saleeba became disillusioned with the charity for which she had volunteered, when she realised that very little of her donated money had been spent on the ground.
Wanting to address the vast gap between affluence and poverty, but certain there was a better way, Susan embarked on a journey driven by her own vision: to break the cycle of poverty through education where 100 per cent of donations go to on-the-ground needs – and to do this in a sustainable way.
Susan established the Nakuru Hope Foundation, a robust and ethical enterprise where all monies donated are spent directly on the people they are intended to support. In addressing disadvantage in Kenya, Susan chose a focus on literacy, believing strongly that a lack of literacy is the source of poor health and impoverished living conditions – themselves contributing to the breakdown of the family unit and, at times, the abandonment of children.
At the core of her foundation's achievement is the Nakuru Hope Gabriel's Learning Centre and its associated orphanage. The centre opened in 2008, and now provides a pre-primary and primary school; adult skills-based programs; and home visits to distribute food, medicine and medical assistance.
In mid-2014, the 40-bed Gabriel's Orphanage was opened alongside the school to provide a safe family environment to those who have been abandoned or need a period of refuge from domestic instability and assault.
Today, the learning centre has close to 300 children attending, ranging from ages three to 10 years. In addition, 20 children who started with Gabriel's now attend high school, boarding schools and surrounding public schools. Five students have progressed to attend university.
A land donation in 2014 enabled the foundation to start its farm, which now produces food to assist with 2000 meals a week. An array of fresh vegetables feeds children who would otherwise go hungry and supplies fresh produce for modest stalls that have been constructed for families to begin small businesses.
The next stage of Susan's dream is to build a sanctuary for women and children fleeing family violence. In the first stages of realising this vision, she has acquired a half-acre plot in Nakuru West.
Susan's self-sacrifice has been profound. She has invested a significant amount of her own money and time into the foundation over an extended period of time. At a stage of life when she could have chosen to retire from work and reduce her social commitments, Susan chose the opposite.
The name given to her by the local community – 'Mama Susan' – is evidence of the great fondness that the people of Kaptembwa have for her, and attests to the fact that she has overcome the challenges of being an outsider and building a flourishing community enterprise to achieve not only material success, but lasting relationships that bring joy to both the local community and to Susan herself.
Susan is a most worthy recipient of the John Curtin Medal for 2018.
Angela Ryder (2017)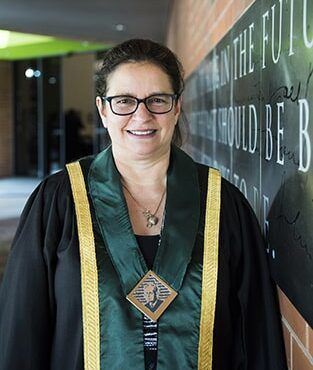 Angela Ryder is a wife, a mother and stepmother of nine, a grandmother to 19 grandchildren and two great grandchildren, and the epitome of self-sacrifice as a tireless and dedicated contributor to the Aboriginal community.
A Wilman/Goreng Noongar woman, Angela has established innovative and positive initiatives and programs to build independence in Aboriginal people and empower Aboriginal women. She has done this for many years, including through her role as Senior Manager of Aboriginal Services at Relationships Australia WA (RAWA), where she has worked for 10 years.
Her steadfast commitment to ensure better outcomes for all Aboriginal people is borne from her personal experience of hardship as a member of the Stolen Generation.
Originally from Katanning, Angela was removed from her family and placed in Wandering and Roelands missions between the ages of 8 and 12. Her mother was also a member of the Stolen Generation.
Angela did not complete Year 10 but worked hard to later gain entry and complete a Bachelor of Commerce in Human Resource Management and Industrial Relations at Curtin University in 1998.
As one who experiences the lasting and real impact of the Stolen Generation on people's lives, and through her professional experience, Angela came to recognise grief and suffering as major issues within sections of the Aboriginal community today. In one of the many hats she wears, she has implemented grief and loss counselling into programs she has developed.
These successful programs include the Moorditj Yoka Women's Group. The group has been a source of support for many women, including Angela who, every Saturday during school terms, leads a group of women who come together at the Langford Aboriginal Association – which she was pivotal in creating in 2000 – to network and share stories of personal hardship.
Such storytelling is courageous for Aboriginal people, who are often unfamiliar with identifying and expressing emotions of loss and grief. They are encouraged to do so as a means to heal and empower, and to understand that 'loss' can include the loss of a job, relationship, property, dreams, goals or culture, in addition to the loss by death of a loved one.
As a volunteer, Angela has dedicated many hours applying for grants, meeting with community stakeholders, forging an effective partnership with the City of Gosnells and developing programs to inspire the participation of the Aboriginal community within the area.
She is working to develop an Aboriginal Aged Care and Community Hub facility for Elders across her community and sits on the Noongar Charitable Trust Advisory Council. She has long been involved in the delivery of NAIDOC celebrations in Perth and Gosnells and also works to implement the National Empowerment Project.
Through Relationships Australia WA, she brokered a partnership with the Women's Law Centre to establish Djinda Services, a legal service which assists Aboriginal women affected by family violence and sexual assault.
Angela's boundless commitment to the Aboriginal community is widely regarded and respected.
Her extraordinary capacity and contribution makes her a worthy recipient of the John Curtin Medal 2017.
Jim Morrison (2017)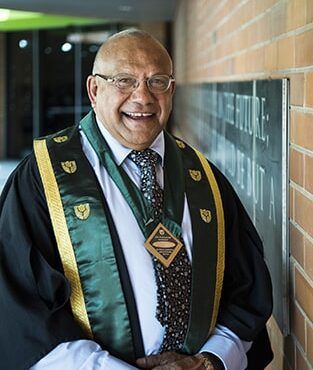 As the son of Stolen Generation parents, Jim Morrison has known but never let adversity intrude on his staunch and relentless advocacy for the human rights of Aboriginal people.
His father, Arthur Morrison, returned to Australia a Prisoner of War from Changi Prison after serving in World War Two, but did not benefit from war service homes like his non-Aboriginal comrades – he lived in the Native Reserve at Katanning. The family lived in tents and other temporary accommodation before moving into a house, when Jim was young. Despite the hard times, Jim and his siblings attended school.
Jim has worked at the frontline of Aboriginal affairs for more than four decades, dedicating not only his career, but also his life to create a better future for Aboriginal Peoples and to have the wrongs of the past redressed.
He understands acutely the traumatic effects of being forcibly removed from one's family and has volunteered his time and skills substantially over many years to ensuring the Stolen Generations have opportunities to heal.
Jim's is a large voice that speaks strongly for the voiceless.
On mental health, education, homelessness, incarceration and suicide, he has worked selflessly to bring these and other issues of social injustice and inequality experienced by Aboriginal people to the public's attention.
He is an entertaining, skillful, authoritative communicator who brings clarity and fresh perspectives to complex issues, and his views are widely sought by organisations and the media nationally.
It became apparent to Jim a few years ago that a significant healing program was required in Western Australia for Stolen Generations survivors and their families. As co-convenor of the Bringing Them Home Committee (WA), Jim convinced the management committee to review and implement the 54 recommendations in the landmark 1997 Bringing Them Home report to deliver truth, justice and healing to his people.
Through the committee, he developed Yokai: Healing our Spirit, an initiative which offers access to community-led social and emotional wellbeing programs to members of the Stolen Generation and their families.
Unable to secure funding to enable him to work full-time on Yokai, Jim pursued his campaign in his spare time before opting to work on it full-time, without a salary.
He successfully obtained funding support recently, and has since been appointed Yokai's executive director.
He has held significant leadership roles in government and Aboriginal organisations, including serving three consecutive terms as Aboriginal Chair of the National Stolen Generations Alliance and as Founding Chair of the Yokai Aboriginal Employment Forum through Reconciliation WA.
Fearless in the face of opposition, generous in spirit and tireless in his advocacy for what he believes is right for his people, Jim often quotes his friend and fellow 'Noongar Warrior', the late Rob Riley: "You can't be wrong if you are right and you do not stop fighting for justice simply because those around you do not like it. Just keep on fighting!"
A senior Noongar man who has gained enormous respect by people in all spheres of society, Jim Morrison is indeed a worthy recipient of the John Curtin Medal for 2017.
Dr Ann O'Neill (2016)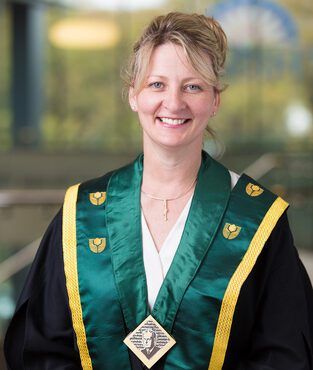 Dr Ann O'Neill's vision is for a safe and socially-just society, where people can live free of fear and violence, and where social conditions and structures are supportive of victims of violence.
This vision is borne out of her own tragic experience of domestic violence.
In 1994, Ann's estranged husband broke into her home while she was asleep, shooting her two young children aged six and four, before shooting Ann and then turning the gun on himself.
Ann was the only survivor but suffered a severe injury, which resulted in the loss of her leg.
Despite experiencing the unimaginable loss of her children, and dealing with her own injuries as well as victim-blame and scrutiny by the media, Ann has channelled her grief into helping others.
Ann is quoted as saying that, "we, as a community, have an obligation to make our community better. We can blame other people, but ultimately it's up to each and every one of us to do our bit to try to make society as just as possible."
Just seven months after the tragedy, Ann commenced full-time study. She earned a degree in Social Work with First Class Honours and a PhD in International Health from Curtin University. Her PhD dissertation was a ground-breaking study of how secondary victims of serious crime are supported.
She has since dedicated her life to assisting others through her social work, advocacy, research, education and public speaking.
Just over a decade ago, Ann founded Angel Hands Inc., a non-profit community support group dedicated to victims of serious crime. Angel Hands was the first web‐based support group of its kind in Australia. Today, it provides a range of programs to support the recovery of people affected by homicide and serious interpersonal violence, and works to assert their needs within the wider community.
As the inaugural convenor of the first WA Homicide Victims Support Group, a voluntary, non-profit organisation providing peer‐to‐peer support for those who have lost a loved one through homicide, Ann raised awareness of family violence and helped people cope with life after homicide.
She has recently become an ambassador for Our Watch, which was established to drive nationwide change in the culture, behaviours and power imbalances that lead to violence against women and their children. Their mandate is to stop violence before it happens, which aligns directly with her work.
Ann also educates and assists government departments, organisations and individuals on issues of family violence, as well as how people can deal with trauma, stress and change in their lives and their work place. As a public speaker, she has been recognised internationally through presentations in England, Croatia and the United States.
Although feeling for many years that she would never have another family, Ann has married, and in 2013 celebrated the birth of a baby boy.
Ann's extraordinary courage and her outstanding vision, leadership and community service make her a most worthy recipient of the John Curtin Medal.
Dr C Kaye Brand (2015)

Kaye Brand placed community service ahead of a career as a successful physiotherapist in order to understand and teach people about fibromyalgia – a debilitating medical condition she was diagnosed with 20 years ago, and which impacts thousands of Australians each year.
Fibromyalgia is a challenging condition that causes widespread pain and stiffness in the muscles, tendons and ligaments and can affect many aspects of a person's life.
At the time she was diagnosed, Kaye found that there was very little research, education and support for people with the condition in Australia. She made it her mission to source the latest assessments, treatment options, research papers and medical specialists, and share this information with others affected by the disease
Kaye's vision to raise awareness of fibromyalgia amongst the broader community was aided by the completion of her PhD in 2005, which focussed on investigating the urinary symptoms of fibromyalgia. In the process, she developed the Fibromyalgia Bladder Index, which is currently used by clinicians.
Kaye quickly established herself as a leader in the area of fibromyalgia public education and support. She has never stopped increasing her knowledge and reach.
This culminated in her founding the Western Australian Fibromyalgia Network in 2007. The not-for-profit organisation has since grown significantly. Starting with only two people, the organisation now has more than 1,700 members and has been hugely successful in bringing together thousands of individuals affected by the disorder.
This spectacular growth is testament to Kaye's leadership, courage and self-sacrifice.
Through small community grants and fundraising activities, the Network is now financially self-supporting. Kaye has personally fund-raised for the Fibromyalgia Support Network, including $20,000 in the 2015 HBF Run for a Reason, making her the third highest individual fundraiser for the event.
In collaboration with Rachael West (creator of Yoga for Pain), Kaye developed the first Australian-based fibromyalgia management course: 'Finding your Feet with Fibromyalgia', which comprises a two-day workshop, focussed on movement and pain management.
At 68 years of age, Kaye is a role model not only to people with fibromyalgia, but many others. She has triumphed over her own health issues, completed her PhD, led and organised educator forums and built community networks and services to improve care and support for people with the condition.
She personifies the determination and commitment it takes to triumph over adversity, and continues to inspire her personal and professional community. She is a worthy recipient of the John Curtin Medal 2015.
Mr Ezzard Flowers and the late Mr Angus Wallam (2015)

Aboriginal Elders Mr Ezzard Flowers and the late Mr Angus Wallam were central figures in consultations with the Noongar community to repatriate the Herbert Mayer Collection of Carrolup artworks to Australia in May 2013.
The Collection was produced by children of the Stolen Generation at the Carrolup Native Settlement between 1946 and 1951. Years after the Carrolup School had closed, the Collection was sold to New York art collector Herbert Mayer by school benefactor Florence Rutter. Mayer donated them to Colgate University in 1966 and they lay 'lost' in storage in the university's gallery until their rediscovery by a visiting Australian academic in 2004.
In 2012, after years of visiting Australia and learning about Noongar culture, Colgate Professor Ellen Kraly recognised that the Collection belonged in Australia. A year of extensive collaboration between Curtin and Colgate followed, with Mr Flowers and Mr Wallam the central figures in consultations with the Noongar people connected to Carrolup, which resulted in the Collection being brought home.
Mr Wallam had been a caretaker at the Carrolup School. He was dedicated to serving the children and supporting future generations. Mr Flowers was an Indigenous mental health specialist whose focus was on healing and positivity.
Together, with their common bond as members of the Stolen Generation, a passionate commitment to their culture, and a strong belief in preserving a legacy for future generations, they helped to restore more than an art collection – they helped to restore the souls and identity of many of their people.
The intent with which they lived – to enable healing, cultural identity, learning and a better tomorrow for future generations – drove them to a life of serving the community.
Their active, open-minded and open-hearted role in the relationship with Curtin and Colgate – and particularly Professor Kraly and her students who visited Carrolup over many years – resulted in the Collection returning home under safe custodianship. It has also ensured the preservation of the artworks for future generations.
Mr Flowers and Mr Wallam gave much of their personal time and energy to Curtin and Colgate universities over many years.
Mr Flowers continues to be involved as part of the Curtin Carrolup Elders Reference Group, which ensures that the Collection is accessible, used purposefully and in continued service to the community.
Mr Wallam passed away only a short while after the Collection returned home, and his contribution continued up until that time. In recognition of his service and his role in the community, he is an honorary member of Curtin's Carrolup Elders Reference Group.
The artworks have been an avenue for historical reflection, unearthing stories and family histories, for healing and strengthening culture.
The Collection represents an important part of Noongar history, Western Australian history and Australian history, and the contribution Mr Flowers and Mr Wallam have made to its return home make them both worthy recipients of the John Curtin Medal 2015.
Sian White OAM (2015)

From an early age Sian White has put the needs of others before her own. As a young child she collected shoes and distributed them to children who didn't have any, and throughout her school, university and work life she continued as an active volunteer and fund-raiser.
At the age of 15 she was named a Paul Harris Fellow by Rotary International for her volunteer and humanitarian work, becoming the youngest recipient worldwide. A year later, she became an Honorary Rotarian of the Scarborough Rotary Club of Western Australia as a result of her outstanding charity work.
Whilst a scholar at St Brigid's School in Perth in 2002, Sian organised a 'Battle of the Bands' concert with the aim of raising funds for the Wheelchairs for Kids charity. The concert was a huge success and helped to raise enough funds for 61 wheelchairs.
Sian was awarded a John Curtin Undergraduate Scholarship to study a Bachelor of Arts (Media and Information) at Curtin University in 2005. She joined Curtin Volunteers! as soon as she commenced and, not surprisingly, she soon became President of Curtin Volunteers!
Whilst studying at Curtin, Sian initiated three charity projects in India, which relied heavily on her hard work and dedication, and the generosity of Rotarians at home and abroad.
The projects included the rebuilding of a girls' school, the building of hostels for blind and deaf children, and building and equipping a unique Vocational Training Centre to empower people with disabilities by providing them with meaningful employment opportunities.
During the four years it took to complete these projects, Sian travelled to India regularly at her own expense, further evidencing her humanitarian spirit.
In 2009, as an Australian Youth Ambassador for Development, Sian worked on the National Tuberculosis Prevention Program in Papua New Guinea. She spent four years undertaking this work, eventually becoming the National TB Program Manager for World Vision.
Over the past years, Sian has organised fund raising events for many different international humanitarian causes, including the victims of Hurricane Mitch in Central America, the World Vision Kosovo Appeal, the Indian Earthquake Appeal, Worldwide Polio Eradication, Free the Bears Fund, the Red Cross Ethiopian Appeal, and the 2004 Tsunami Appeal.
Through her tireless dedication to supporting others less fortunate in Australia and around the world, Sian has raised more than $260,000 for charities and emergency relief appeals.
She has also represented Australia at many leadership and humanitarian conferences.
There has seldom been a time when Sian has not been engaged in helping others. She has shown great vision and leadership in her approach to the many causes she supports and has inspired the many people and communities she has worked with.
Sian is a humanitarian and an optimist, driven by the belief that every person can make a difference. She is a most worthy recipient of the John Curtin Medal 2015.
Clinton Heal (2014)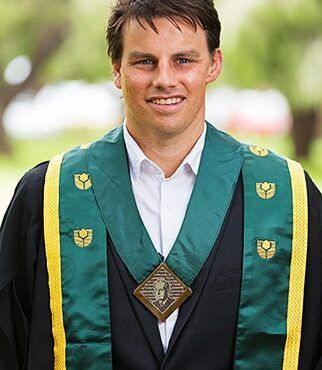 In 2005, Clinton Heal faced an unimaginable challenge when he was diagnosed with metastatic melanoma at the age of 22. Since then, he has had 35 tumors removed and has come to exemplify a journey of both personal resilience and community service that is remarkable, by any measure.
From the outset, Clinton has been proactive in managing a life-threatening disease. After his diagnosis, he kept up with work and sporting activities and generally operated in a way that would ensure he continued with his life – as a young man with strong sporting links and as a respected professional in the medical imaging department at the Peel Health Campus.
However, Clinton also realised there was little in place in Western Australia at the time in terms of resources or support and advice, both for someone receiving a diagnosis of melanoma, and for their circle of support.
Clinton's response to this was one of focused and effective action and in 2008 he established the not-for-profit organisation melanomaWA. His vision was to help those in the community diagnosed with melanoma to receive immediate access to the information and support they needed to improve their prognosis. Shortly thereafter, his vision broadened to include the provision of support to family, friends and carers.
More recently, he has extended melanomaWA again to provide informed advice and education to the broader community. It is estimated that since his first presentation was made at the Pluto LNG Project in Karratha in 2009, an audience of 20,000 has been reached.
There is little doubt that Clinton's leadership is the absolute driving force behind melanomaWA – both when it was established and in its continued strength as a vibrant and progressive organisation today. With a Bachelor of Science in Medical Imaging Science and an MBA – both from Curtin University – Clinton has combined education and personal experience to emerge as one of the State's most capable and inspiring young leaders.
This was recognised when he was awarded the 2011 Western Australia Young Australian of the Year – and when he was named a 2011 40under40 Award winner.
It is important to see these achievements in light of the significant courage and determination that Clinton has needed to manage his own physical and emotional wellbeing over the past nine years. This, in itself, can be considered a 'full time job' for someone with such a challenging diagnosis.
Viewed in this way, his extraordinary commitment and generosity towards helping others becomes truly evident. Indeed, he has won considerable respect and admiration over the years, with any number of people attesting to his selfless and inspirational achievements.
Clinton Heal's journey as advocate, leader and visionary has raised awareness about melanoma across Western Australia and has had an impact on thousands of lives. He is a most worthy recipient of the John Curtin Medal for 2014.
Helena Murphy (2013)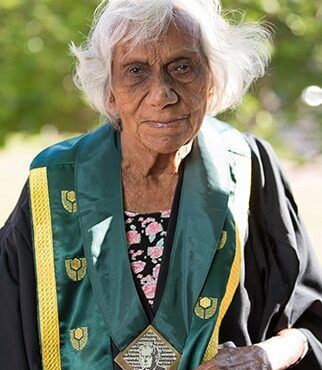 Born in 1922, Helena Murphy (nee Clarke) is a Western Australian civil rights activist and freedom fighter. She is regarded by many as a national treasure and often referred to as the Rosa Parks of the State's civil rights movement.
Helena is most noted for her part in founding the Coolbaroo League in 1947, a political movement and Indigenous social club that aimed to gain equal rights in post-war Western Australia at a time of extreme racism, before Aboriginal people had gained the right to vote.
Helena founded the League as a young woman in her 20s, when Aboriginal people lived under constant fear of police surveillance, had their children removed and were limited in where they could travel and work. It was also a time when women did not have equal rights, making Helena's courage and impact even more remarkable.
Coolbaroo, a Yamitji word for 'magpie', symbolised the idea of black and white coming together. Although non-Indigenous people could attend Coolbaroo events, only Indigenous people could hold office – a policy aimed at recognising the ability of the Indigenous community to run an exemplary organisation.
Helena and her colleagues fought for the rights of Indigenous Australians on many fronts – including lobbying the government on issues such as the removal of children, citizenship laws, deaths in custody, education and voting rights. One of their intentions was to close down the Moore River settlement and others like it.
Helena used Western Australian daily newspapers effectively as a means of addressing systemic racism and derogatory comments towards Aboriginal people. At one point, she tried to join the airforce and the land army, but was rejected on the grounds that Aboriginal women were not permitted.
By 1960, the Coolbaroo League had grown to become a highly effective Aboriginal-controlled organisation, responsible for – among other things – running the Westralian Aborigine newspaper. Helena and her peers had also successfully established the Western Australian Native Welfare Council.
Throughout her young adult life, Helena's activities were conducted at considerable personal risk, and she was kept under surveillance by the police for her activism.
The Coolbaroo Club inspired a film of the same name, which has been taught in WA secondary school for many years.
Helena moved away from Perth in the early 1950s, after marrying Cyril Murphy, an Indigenous man with family ties to the Kimberley. Together they ran a successful trucking business in Darwin. After her husband's early death at the age of 37, Helena single-handedly raised five children while also owning and operating a large corporate cleaning business that provided employment to many people.
Helena Murphy's fight against injustice has been for all Indigenous Australians and has a particular value in showing that strong Aboriginal women have a deserving place in the history books of Australia. She is a most worthy recipient of the John Curtin Medal for 2013.
Additional information
Arts, Culture and Heritage, have three podcasts in a series 'Untold Stories of Perth' that includes an interview with Helena Murphy, which can be accessed here.
There is also a Perth History Centre blog with the same stories, which can be accessed here.
Dr Graham Forward (2013)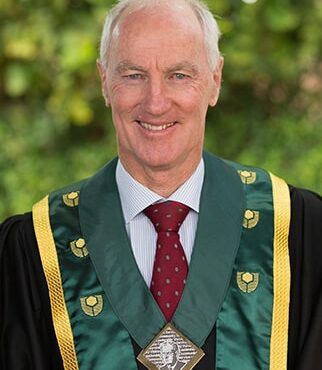 Graham Forward's story is one in which the strands of personal interest and professional commitment have been closely intertwined to bring remarkable impacts to many people living in East Africa.
Full-time orthopaedic surgeon, devoted husband to Jacquie Gilmour and father of eight children – including three adopted from Ethiopia – Graham has found the time and the energy to establish and build a highly respected medical humanitarian organisation.
Graham completed his medical training in Perth and went on to do an MBA at the University of Bath, subsequently returning to Perth to run his own building company for a short period of time.
Following his deep desire to pursue a professional career that could make a worthwhile contribution to society, Graham then undertook postgraduate training in orthopaedics, and has worked as an orthopaedic surgeon in Western Australia since then.
It was in 2004 that Graham embarked on what has become an extraordinary humanitarian journey. In response to the emergency medical requirements resulting from the 2004 tsunami, Graham organised a medical team to travel to Somalia, in an effort to aid swift recovery from the natural disaster.
On his return to Perth, he established Australian Doctors for Africa (ADFA) to help relieve communities in the Horn of Africa from some of their most severe medical and health difficulties. Graham's vision has been to provide long-term medical assistance in ways that complement host countries' health care plans.
Since 2005, the organisation has grown into a charity engaging some 70 medical professionals who provide voluntary medical, surgical and nursing services to Ethiopia, Somalia and Madagascar.
Over almost ten years, more than 36 medical teams have conducted thousands of surgical procedures, outpatient and inpatient consultations, and ward rounds. More than $10 million worth of medical supplies and medical equipment has been dispatched in 22 sea containers.
Key ADFA contributions include introducing new surgical procedures to the local medical workforce and completing six major building projects including new operating theatres. Local medical services have also been expanded and medical knowledge has been increased – through the use of information technology – to guide local surgeons in the treatment of orthopaedic injuries.
During the ADFA journey, Graham has experienced events and developments that have been large, unpredictable and rare – most of them far outside the realm of expectation for organisations operating in more politically stable countries. Graham has shown tenacity and skill in establishing and building ADFA in challenging conditions.
ADFA continues to go from strength to strength. This is testament to Graham's leadership ability and his deep concern for the welfare of those less fortunate. It is his enduring dedication to a long-term humanitarian vision that makes him a worthy recipient of the John Curtin Medal 2013.
Work undertaken since receiving the John Curtin Medal
Since receiving the John Curtin Medal in 2013, Dr Graham Forward continues to oversee the development of Australian Doctors for Africa (ADFA) as the organisation's CEO.
Dr Forward founded ADFA in 2005. Today it is active in four countries: Ethiopia, Somaliland, Madagascar and Comoros Islands. The organisation sends at least 15 volunteer teams of medical specialists annually to provide medical services and assess and implement skills transfer, through medical consultation, surgical and non-surgical treatment and training local doctors and students. The objective is to enable a trained, sustainable local surgical workforce in each of the target countries.
While the initial focus of ADFA was on the provision of orthopaedic services through implementing local screening clinics and training local medical staff and surgeons in early detection and treatment, it has broadened to include specialised teams with expertise in urology, gastroenterology, obstetrics, gynaecology and paediatrics.
Since 2013, ADFA has been supporting infrastructure upgrades through the provision of surgical and hospital equipment, building renovations, hospital wards, water supply and capacity-building initiatives to improve medical facilities in major government teaching hospitals. More than 50 containers of medical and hospital equipment have been sent to hospitals in the target countries to date.
ADFA plans to continue supporting its existing medical training programs and expansion of the scope of specialist surgical teams it provides to include gastroenterologists, cardiologists and urologists, in addition to plaster technicians, physiotherapists, emergency GPs, anaesthetists and nurses.
Emeritus Professor Jo Barker (2012)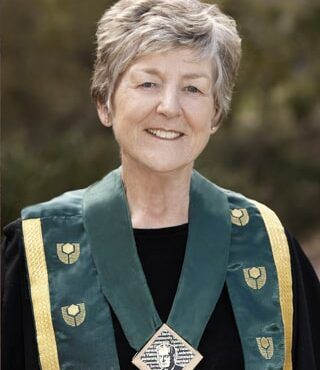 Emeritus Professor Jo Barker makes a difference in almost everything she does. Her leadership in helping people and the community she lives in has been a hallmark of her life and career.
Professor Barker has enjoyed a successful and much lauded career in academia and allied health. She discovered her chosen career of occupational therapy as a 17-year-old living in New Zealand, falling in love with the profession's goal of helping people to regain their independence. She completed her university qualification in 1963, working initially with people who were recovering from strokes.
After making the move from New Zealand to Western Australia in 1969, Professor Barker worked within the mental health field, helping hospital outpatients to regain daily living skills. The diversity of her profession has brought her enormous joy throughout her long and distinguished career.
Professor Barker joined Curtin University in 1979, instantly stepping into the role of Head of Occupational Therapy, a position she held until 1993. She embraced the word of academia, becoming the first occupational therapist in Australia to complete a PhD in 1988. Her doctorate researched fairer ways to assess occupational therapy students on clinical placements, leading to very real changes in how students were assessed. She achieved this remarkable feat while single-handedly bringing up her son Andrew and working full-time.
Throughout her career, Professor Barker fearlessly pushed her vision to have occupational therapy recognised as a field of major importance in the health sector, and has never lacked the courage to take on new and challenging roles. Demonstrating her outstanding leadership, she was the first female board member of Perth's Sir Charles Gairdner Hospital and subsequently its first female Chair. She was also the first Australian President of the World Federation of Occupational Therapists.
After retiring in 2001, she and her husband David – who she met at Curtin, and married 21 years ago – settled in Mandurah. But for Professor Barker, retirement was never going to be about slowing down.
For a decade, she served as Chair of the Mandurah Performing Arts Centre, using her exceptional leadership and interpersonal skills to restructure the board, recruiting members with the necessary financial, governance and strategic abilities to raise the public profile of the Centre and create a much more stable management environment.
She also steered the creation of a new vision for the Centre, oversaw the recruitment of an experienced Festival Director to develop its programming activities and helped reorganise the Centre's volunteer team, which today is more than 480-strong. She effectively drove the transformation of the under-utilised landmark building into a cultural hub for the region, a major drawcard for visitors and a provider of performance training for the local community.
She was presented with an Honorary Life Membership in recognition of this major community contribution and, in 2008, was awarded the Chamber of Commerce and Industry's Alcoa Business Excellence Award for Enterprising Women for the leadership role she played in supporting cultural change in Mandurah.
She has now moved her attention to public education, chairing the board that is working towards the amalgamation of two separate schools in the area – Mandurah High School and Mandurah Senior College. To be known as the John Tonkin College, this new educational entity aims to set a new direction for public education in Mandurah. Again, she has committed significant personal time and energy, in her supposed 'retirement years', to guiding and articulating a vision for this college.
In addition to all her voluntary work within the Mandurah community, Professor Barker has been an active mentor, coaching and developing skills in others so they too can become successful leaders.
Professor Barker has a remarkable aptitude for recognising and realising opportunities for community growth and development, and for nurturing the skills and potential of those she works alongside. Her commitment to the field of occupational therapy and the community she lives in make her a most worthy recipient of the 2012 John Curtin Medal.
Work undertaken since receiving the John Curtin Medal
Since receiving the John Curtin medal in 2012, Jo Barker has been involved in active service to the community.
She chaired the Independent Public Schools (IPS) board for John Tonkin College between 2012 and 2015 – the first high school in Mandurah to have gained IPS status. Jo then went on to assist other schools in the region to establish business-based IPS boards.
Between 2014 and 2017, she was an Ambassador for the Patrons Program at the Mandurah Performing Arts Centre. The program was initiated to create a base for art-minded people to meet, and to financially support the centre.
Since 2016, Jo has been an advocate for Alzheimer's WA, where she undertakes public speaking roles for students and community groups with her husband to dispel the myths and stigma attached to the dementia diagnosis.
She has raised $67,000 to establish a sensory garden at a care home for dementia clients in Mandurah and assists in making Mandurah, and the City of Mandurah, a dementia-friendly community.
Tanya Pinto (2011)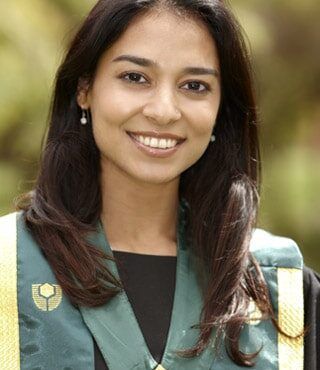 Tanya Pinto's strong belief that one ordinary person can make a difference has led her life full circle, back to her Indian birthplace to improve the lives of its poorest children.
Her father's regular reminders that it can take just one person, and one generation, to end a family's cycle of poverty were founded in Tanya's grandfather's experiences, and significantly shaped Tanya's view of the world, inspiring her to act.
In 2005, after living in India, Dubai, Australia – where she completed an Honours Degree at Curtin University – and the United States, Tanya took a three month sabbatical from her successful and demanding advertising career to volunteer at the Mother Teresa Orphanage in Calcutta.
It was here that her belief in the power of an ordinary person was reinforced, through her experiences, and symbolically, through a sign on the wall of the orphanage that read: "If you can't feed a hundred people then feed just one."
That advice, a $50 donation from a friend, and the realisation that, in India, such a small amount can buy so much for its under-privileged children were the impetus for Tanya's vision for the street children, slum children and orphans of India.
Baal Dan, the charity Tanya created to turn her vision into reality, is working to break the cycle of poverty these children live within by providing them with nutritious food and education.
The charity provides food, education, medical treatment and essential supplies – from books and pencils to toilets and ceiling fans – to disadvantaged children and their families. Fun activities are also a key part of the charity's work, making sure these children are able to experience some of the simple joys of childhood.
Since Tanya founded Baal Dan in 2006, it has provided aid in 12 cities to more than 3,000 of India's most disadvantaged children. It feeds at least 1,000 children a day and sponsors 45 children in private education. Three medical camps have immunised 200 children and provided medications to 300 children and women, and its first school was built this year.
Not content to stop there, Tanya has ambitious plans for the future, including building another school, building an orphanage, and purchasing a bus to deliver basic-needs items more quickly and to more areas in India.
Achieving such incredible outcomes has not come without personal sacrifice. Since starting Baal Dan in 2006 Tanya has forgone vacations and taken up to six months unpaid leave a year so she can go to India to work with the charity she founded.
To maximise the value of the donations Baal Dan receives, Tanya finances her own travel expenses, and she has soldiered on through four hospitalisations for malnutrition, a result of infections caught in India.
In 2010 Tanya was named Harvard University's Women's Empowerment Conference and Convention 'Woman of the Year', and in 2007 she was awarded the Sri-Sri Ravi Shankar Award for "Uplifting Human Values".
Baal Dan is the two-time winner of "Charity of the Month" by Search Kindly, a Google company, and has been named "Hunger Charity of Choice" by The Hunger Site and Greater Good Foundation.
Tanya's drive, commitment and selflessness have improved the lives of thousands of children in India, and make her a most worthy recipient of the 2011 John Curtin Medal.
Work undertaken since receiving the John Curtin Medal
Since she was awarded the John Curtin Medal in 2012, Tanya Pinto has expanded Baal Dan Charities (Baal Dan) globally to provide life-changing aid to even more children in need.
Tanya primarily concentrated on helping needy children in India when founding Baal Dan in 2006. Today, Baal Dan has helped more than 10,000 children in 12 developing countries by funding grassroots projects for partners and organisations for orphanages, schools and care facilities, and supporting the provision of food, education and essential supplies. Programs have included building a pre-school in rural Zambia, and providing almost 2,000 children with meaningful aid, food, supplies and shelter after the devastating Nepal earthquake in 2015, among others.
In 2016, Tanya launched Food Mission – Serving Hope, a subsidiary unit of Baal Dan Charities which is focused on providing nutritional and protein food supplies for malnourished children in orphanages and schools, and in times of crisis. This successful initiative now provides daily food to more than 1,000 children in need around the world.
Since commencing Baal Dan, Tanya has maintained a commitment to keeping administrative costs low, mobilising a network of committed volunteers across the world to ensure that nearly every dollar donated goes directly into the hands of programs and institutions that help vulnerable children.
Tanya has also provided strategic leadership and marketing/branding counsel to some of the world's largest non-profits and NGOs, including World Vision International, through her consulting practice, Shakti Consulting. She has worked on initiatives and partnerships with the United Nations' World Food Programme and has helped develop branding strategies in the areas of global health, food security, WASH (Water, Sanitation and Hygiene) and HEA, (Humanitarian Emergency Assistance) on behalf of her clients.
Beverley and John Lowe (2010)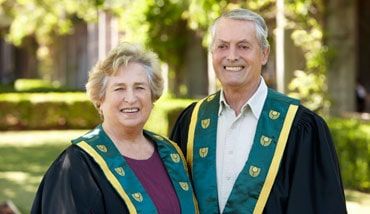 Beverley and John Lowe have a personal quest to make the world a better place.
It is this strong belief that led them to create Manna Industries, a charity helping to feed the homeless people of inner-city Perth.
From a humble beginning, Manna Industries has grown to become the leading volunteer operated food program in Western Australia.
Last year Manna Industries served 53,000 meals to Perth's homeless, 10,000 breakfasts to hungry school children and 4000 food parcels to families in need.
Download the Adobe Flash Player to see this multimedia content. Watch the 2010 Medal Award Ceremony.
Two hundred volunteers give their time to Manna Industries every week to meet the growing demand of Perth's homeless people.
In their early lives, Beverley grew up in a small South Australian town, learning how to cook at her grandparent's boarding house, while John immigrated to Australia from England aged 16 to train in agriculture.
The couple met in 1976 and married in Darwin. They farmed, raised a family of six and served their community together.
They now have 16 grandchildren and six great grandchildren.
They moved to Perth in 1982 to access specialist support for their hearing impaired son. Both worked in the disability sector and established a deaf signing choir.
In 1996, the couple turned their attention to those less fortunate after they noticed a group of homeless people sitting in an inner-city park in Northbridge.
Beverley decided they should go home and make soup for them.
Fourteen years later, Beverley and John Lowe are still cooking and distributing food to Perth's homeless people.
In their first eight years, they cooked soup in their home kitchen and distributed it from their family car in a Northbridge park. They spent their retirement funds to make sure everyone was fed.
Manna Industries now serves more than 1200 meals to homeless people each week. The food is prepared daily from fresh ingredients with a rotating menu of traditional home-style dishes.
The meals are served with love and they treat their clients with respect and dignity, which they feel is just as important as the meal.
During this time the retired farmers have also had personal setbacks to overcome, with both Beverley and John experiencing serious health problems. Yet, despite the setbacks, Manna Industries has survived, flourished and expanded.
In 2001, Manna Industries established a school's breakfast program, called Manna Kids, in five primary schools across Perth.
Each week students, who would otherwise have little or no breakfast, enjoy a choice of cereal, baked beans, toast, juice, milk and fresh fruit.
More than 600 breakfasts are now prepared each week, and this figure is growing. Providing breakfast for these children has noticeably improved their classroom attention, behaviour and school attendance.
Manna Kids opened a purpose-built cooking facility at Maddington Primary School to teach students how to prepare simple healthy meals using fresh produce from the school's kitchen garden.
Opened in April 2010, this is the first dedicated cooking area for primary-aged children in Western Australia.
Manna Kids also launched the Winter School Uniform Project in 2008 and has since provided warm winter uniform packs to more than 1200 Perth primary school students.
In 2008, Beverley and John were each awarded the Medal of the Order of Australia for their services to the community.
The couple's dedication to those less fortunate has necessitated a high degree of self sacrifice, yet their devotion and love for those who have so little remains high.
It is this tireless work to make a difference in others' lives that makes Beverley and John Lowe worthy recipients of the John Curtin Medal for 2010.
Patrick Lionel Dodson (2009)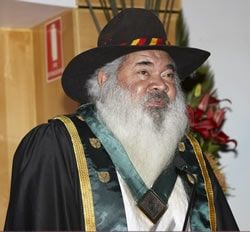 There is one word that has become synonymous with Professor Patrick Dodson and that is "reconciliation
Patrick Lionel Dodson – 2009 John Curtin Medal recipientsPatrick Lionel Dodson – 2009 John Curtin Medal recipient
In fact, he is warmly regarded across the nation as the "father of Australian reconciliation".
Patrick Lionel Dodson was born in 1948 in Broome, Western Australia, and is one of this country's most respected and influential Aboriginal leaders.
His vision of Australia is one that is reconciled with and inclusive of all its members, particularly the nation's Indigenous peoples.
Over the decades, he has devoted his energies to this issue taking on many roles and participating in a range of high-level forums – such as the Council for Australian Reconciliation, the Apology to Indigenous Australia's Stolen Generations, the 2008 Australian 2020 Summit and The Australian Dialogue.
A major figure in Indigenous affairs, Patrick has consistently shown remarkable leadership, courage and vision with much of this evident from childhood.
He spent most of his early life in the Northern Territory, but this changed after he lost both parents in tragic circumstances. In 1961 he was sent to Monivae College, a boarding school, in Victoria — a long way from his family in Katherine and Broome.
Patrick rose to prominence at his secondary school taking on important leadership roles such as head prefect and for two successive years he was selected as captain of the school football team.
It was also during this time that he developed a political awareness of Aboriginal issues.
After completing his schooling, Patrick enrolled to study for the priesthood and was ordained in the order of the Missionaries of the Sacred Heart in May 1975.
In doing so, he became Australia's first Aboriginal Catholic Priest.
Following his departure from the church in 1981, Patrick turned his attention to Indigenous matters and reconciliation.
This unswerving commitment has seen him lead a variety of organisations starting with the Central Land Council which he joined in 1981 and became Director in 1985.
Other high-profile leadership roles have followed such as his appointment in 1989 as one of the Commissioners of the Royal Commission into Aboriginal Deaths in Custody.
In 1991 he became the inaugural Chairperson of the Council for Aboriginal Reconciliation.
In 2001, Patrick established the Lingiari Foundation and in 2003 he was appointed to Chair the Board of the Kimberley Development Commission.
During the same year, a biography "Paddy's Road" by Kevin Keeffe was published describing Patrick's life and political, cultural and spiritual beliefs.
In 2008 he commenced as Co-Convener of The Australian Dialogue, along with Lt General John Sanderson, and this year he became Director of the Indigenous Policy and Dialogue Research Unit at the University of New South Wales.
Patrick's inspiring dedication to reconciliation has been acknowledged with various accolades and awards.
He is recognised as a National Living Treasure, received the 2008 Sydney Peace Prize — the only international peace prize awarded in Australia — and was recently named the 2009 WA Senior Australian of the Year.
His lifetime of service to the Australian community has been tireless and his achievements countless, that is why Patrick Dodson is, indeed, a most worthy recipient of the John Curtin Medal for 2009.
Joan Winch (2008)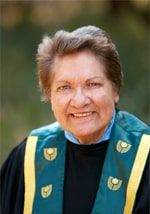 Joan Winch has worked tirelessly to improve Indigenous primary health care in Western Australia.
As the founder of Marr Mooditj Foundation, she has helped to deliver appropriate and effective health worker training for Indigenous people and communities across the State.
After leaving school at the age of 13, Joan has gone on to have a long and distinguished career in the health sector. She graduated from the inaugural Diploma of Nursing cohort at Curtin University of Technology (then WAIT) in 1979, and became the first visiting Nyungar community nurse at the Perth Aboriginal Medical Service in 1980.
Two overseas trips, a visit to India in 1975 and China in 1977, led her to believe that appropriate and effective health care must involve practical training and education, and a specific cultural context in which to teach and provide care.
After starting work at the Perth Aboriginal Medical Service, Joan began planning an Indigenous health worker education program that applied the principles and practices she had seen overseas. As a result, she set up the Aboriginal Health Worker Education Program in 1983. In 1990, the program became the Marr Mooditj ('Good Hands') Foundation.
Joan's vision for a community-controlled, culturally appropriate and effective primary health care program was awarded the Sasakawa Award for Primary Health Care Work by the World Health Organisation in 1987.
In 1999, Joan became the Director of the Centre for Aboriginal Studies (CAS) at Curtin, a position that she held for three years. She has continued to provide guidance to the Centre through her membership of the Aboriginal Advisory Committee and is the Patron of CAS.
While the Marr Mooditj Foundation has made a substantial contribution to the Indigenous and wider community through its health programs and training, Joan has devoted countless hours to serving her community. While working as a visiting community nurse, she used her free time to help mothers in Indigenous communities with practical help and instruction. She continued this work after establishing 'Mooditj Mums' as part of the Marr Mooditj program, which led to the establishment of the Indigenous maternal and infant health service Ngunytju Tjitji Pirni in Kalgoorlie.
Joan has also served on many committees including the Royal Australian College of Obstetricians and Gynaecologists Indigenous Women's Committee and the Federal Health Minister's Advisory Council (Women's Health).
Her status as a respected Nyungar elder, founder of Marr Mooditj, Premier's Indigenous Leaders Scholar and the recipient of many national and international awards, is testament to the battles she has won against overwhelming odds.
Joan has never hesitated in taking on challenges that she felt were worth fighting for. She has placed the welfare of Indigenous community members and groups, as well as that of her family and friends, before her own interests.
Joan Winch is indeed a most worthy recipient of the John Curtin Medal for 2008.
Helen Dullard (2008)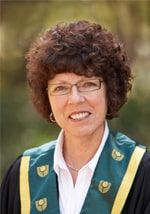 Helen Dullard's vision is for a better community. As the Chief Executive Officer of the Hills Community Support Group (HCSG), she has worked towards this vision and served her local community passionately over many years.
Helen has been described as a "social entrepreneur" using her considerable skills to better a community and the lives of individuals within it.
The HCSG was born some 25 years ago at a public meeting attended by people wanting to set up a support group in the Mundaring area. From these humble beginnings it has continued to grow and currently provides services to youth at risk, frail older people, people with disabilities and carers. It has more than 300 staff, a multi-million dollar budget and services thousands of people in the eastern metropolitan area. Helen has led HCSG from its beginnings in the 1980s and has successfully steered its growth, obtained funding for an increasing number of people and expanded its programs to meet changing social needs.
Helen recently became aware of the acute need for a safe house for young women and through her hard work and determination she forged partnerships to obtain land, funding and a building to cater for this need. It will be the first of its kind in WA.
With the support of a major local business that donated land and a building, Helen has also developed a program aimed at helping local Aboriginal youth in Midland gain and maintain employment. A group of older Aboriginal ladies (and often their daughters and babies) also come together twice a week to enjoy friendship, develop personal health plans and use their natural talents to produce artworks. Through careful and respectful sharing of ideas, this initiative led to building new and rewarding contacts with local Aboriginal families.
Helen puts an immense amount of time and energy into her role as HCSG CEO, and also maintains a strong commitment to her local community. She has been a Mundaring Shire Councillor since 2000 and was elected as President in October 2007. Helen has also been a ministerial appointment to the Local Government Advisory Board since 2002 and was recently appointed to the Racing and Gaming Commission.
Many hours of Helen's time have been dedicated to volunteering in the community. She works on local environmental issues and with a long standing interest in the arts has volunteered in the local arts community and has been a member of the Mundaring Community Arts Board since 2000.
Helen has only just retired from a 10-year membership on the Council of the Ageing Board where she chaired the Community Services and Health Committee.
She is a community member on the Swan Kalamunda Hospital Community Advisory Council which includes representation on both the Carers and Disability Access committees.
Helen is also one of 14 chief executive officers of a Round Table set up to build a solid relationship between the Director General of the Disability Services Commission and the not-for-profit sector. To support this, Helen is a state board member of the National Disability Services and she is an active member of the Mundaring Shire's Disability and Seniors Advisory Group.
Helen Dullard is indeed a most worthy recipient of the John Curtin Medal for 2008.
Work undertaken since receiving the John Curtin Medal
Since being awarded the John Curtin Medal in 2008, Helen Dullard joined The Smith Family as a volunteer, where she has been involved in assisting socially disadvantaged young children in Middle Swan Primary School in Stratton.
The child neglect and social and family dysfunction she has witnessed had a profound effect on Helen's desire to remain involved in her community. Her commitment has led to Swan Alliance in the Midland district seeking her support to bring together a body of people to focus on research and advocacy for policy change in early-years services for vulnerable children and families.
Helen chairs the board of We The People WA Inc, which is made up key community players with expertise, capacity and local knowledge and operates in Perth's north-east areas.
Through her involvement, Helen has accessed her valuable networks, and those of others, to build a significant partnership for the organisation with Telethon Kids Institute and Edith Cowan University which has resulted in funding success for We the People through a $20,000 grant from East Metro Health Service (Community and Population Health Services). The funding is managed through Telethon Kids and employs a part-time project officer.
More significantly, the arrangement has led to a solid commitment to work through Telethon Kids' newly formed Collaborative for Kids (CoLab), which will trial a program in Midland that will look to invest in culturally appropriate early childhood services including pre-natal support, universal and targeted parenting programs, child health and allied health services.
Helen is passionate about looking at gaps in service delivery and is keen to research how appropriate service access could build stronger, confident and resilient families.
Dennis Eggington (2007)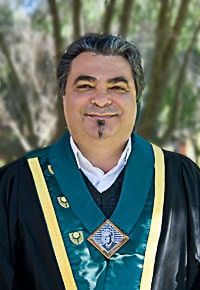 Dennis Eggington has a vision of social justice for Aboriginal people based on fundamental human rights and a 'fair go' for all.
A Nyungar man, Dennis has served his people passionately for most of his life. As a pragmatic and esteemed leader, he is very often the voice of the Nyungar people.
Dennis is currently chief executive officer of the Aboriginal Legal Service, a position he has occupied for 12 years. His status within the organisation is enormously high. This comes from not only running the service successfully, but also because he is at all times an ardent and committed defender of Aboriginal rights. He is not only respected by the Nyungar people, but also the non-Aboriginal community throughout the state.
An articulate man of great foresight and principle, he opposed the Northbridge curfew, supported Aboriginal land rights as the basis for enabling Indigenous Australians to live a good life and strongly opposed those who have sought to blame Aboriginal culture for domestic violence and child abuse in Indigenous communities. His call for a Human Rights Act, both in WA and nationally, is indicative of his unshakable moral standpoint.
As well as being very active in his role with the Aboriginal Legal Service, Dennis has given countless hours of community service.
He has been at the heart of discussions about the nature of Nyungar sovereignty and nation, personally consulting communities throughout Nyungar country. He has also spoken out on behalf of Aboriginal people as a delegate on the United Nations Commission on Human Rights in Geneva.
He was a leading member of the Coalition of Aboriginal Agencies, the peak body for Aboriginal agencies in Perth. Under their auspices, Dennis helped establish the Indigenous Family Program with its key focus on keeping Aboriginal people out of the justice system. It has a holistic approach to Aboriginal family issues and deals with health, housing and justice, to name a few.
He holds or has held a number of formal committee positions whilst representing the Aboriginal community. He acted as Chairman of the WA Aboriginal Education Consultative Group and Chairman of the WA Aboriginal Language Conference. He served on the Perth ATSIC Regional Council and spent time on the board of various community controlled organisations including the WA Aboriginal Education Consultative Group, Derbarl Yerrigan Health Service, the Western Australian Aboriginal Media Association and the Manjimup Aboriginal Corporation. He was on the board of the Australian Academy of Race Relations and was treasurer for the Dumartung Aboriginal Corporation and also the Third Conference of the World's Indigenous Peoples.
Dennis is also a highly valued member of the Aboriginal Advisory Committee for the Centre for Aboriginal Studies at Curtin.
Although he has made many personal sacrifices, Dennis has shown great resilience and dedication to sustain the fight for justice and equity. He is a modest man of great generosity and compassion, who has made a significant contribution to improving the welfare and opportunities of Indigenous Australians. He is a true champion for his people.
Dennis Eggington is indeed a most worthy recipient of the John Curtin Medal.
David Goldstone (2007)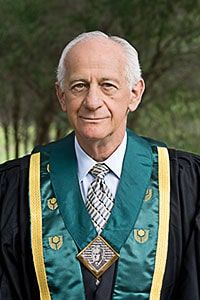 Throughout his life, David Goldstone has shown a remarkable capacity for giving. He has devoted nearly forty years to charity work, motivated by a strong desire to make a difference to those less fortunate.
The impetus to help others began when, at the age of 20, he was diagnosed with polio. A fit and healthy young man, he was given just 24 hours to live.
Revealing an early glimpse of the determined spirit that was to drive him throughout life, David overcame this debilitating disease and went on to council and inspire other sufferers for many years.
He has since worked with many hundreds of Western Australians, undertaking numerous fundraising projects for a diverse range of worthy causes at a local and international level.
David has given an immense amount of time and energy to Rotary International since 1969. However, it wasn't until his retirement from a successful career in commerce in 1996 that he began what he describes as 'the busiest period of his life'.
One of his most significant projects was his 1999 'Pennies for Polio Campaign' which raised $84,000 towards Rotary's world-wide Polio Eradication Program. Over the past twenty years the number of children paralysed or killed annually by the disease has reduced from 500,000 to less than 1,000. It is a testament to David's unwavering belief, tenacity and focus that he was able to raise money and awareness in Australia which is seemingly, polio free.
David's organisational abilities have seen him involved in many other fundraising ventures. A special event on his calendar is the Subiaco Craft and Community Fair, a community project he has chaired for the past five years. Under David's guidance it has become the largest fair of its kind in the state, raising a phenomenal $100,000 in four years towards CanTeen, Camp for Kids and the St John of God Foundation Horizon Program.
He has made a significant contribution to the Horizon Program, which aims to find solutions for the long term housing dilemma for the young and homeless. David has secured recurring financial assistance to support the five Horizon homes that have been established in WA that house, support and care for the disadvantaged.
David's ties with the St John of God Foundation have also lead him to fundraising for the new $30 million Bendat Family Comprehensive Cancer Centre in Subiaco.
In 2003, Rotary WA commenced a campaign to establish the first public cord blood bank facility in Perth. David's efforts in organising a fundraising dinner at Government House Ballroom in November 2006 raised nearly $170,000 net proceeds in that one night alone.
Dedicating ones time to an altruistic way of life demands perseverance and a sustained focus on the end goal. It also requires the energy to inspire and motivate others to give their time and support to work for which they are unlikely to be renumerated. In total, David has helped raise more than $10 million for charity in Western Australia and the number of lives he has touched is countless.
David Goldstone is indeed a very worthy recipient of the John Curtin Medal.
Ms Pieta O'Shaughnessy (2006)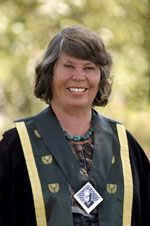 Pieta O'Shaughnessy – 2006 John Curtin Medal recipientsPieta O'Shaughnessy – 2006 John Curtin Medal recipient
Pieta O'Shaughnessy commenced working in community radio in the early days of its development, in 1976. Pieta recognised the value and impact of community radio on people's lives and society as a whole. She helped found 6NR, which today broadcasts as Curtin FM 100.1, and thus began a lengthy association with Curtin. Pieta has since been pivotal in the growth and development of the station, her leadership having enabled it to become a valued part of the University and wider community.
Pieta also helped establish England's first campus-based broadcaster, WEAR FM, in the early 80s.Under her direction the station was considered visionary, and received many accolades.
At Curtin FM Pieta recognised the lack of programming for the fifty-plus age group, and made it her mission to develop such a program. This has taken many forms and, on her retirement, was known as Seeking Solutions with Retirees WA. Pieta's work in providing for this age group has been pivotal in the success of Curtin FM 100.1.
Her association with Curtin FM lead to Pieta making countless connections within the community, often highlighting causes with which she felt compelled to become involved. During an interview with Peter Sirr, the Executive Director of Outcare, Pieta was struck with compassion for the plight of the children of prison inmates, and the idea for the unique venture that is Santa's Workshop was born.
Pieta called for donations of toys and gathered a small band of volunteers to restore those that needed attention. Initially restoration took place in a small area of the Curtin Child Care Centre next to the radio station, and the first Santa's Workshop toys were presented to Outcare for distribution for the Christmas of 1999. Since these humble beginnings Santa's Workshop has expanded greatly and is now based at Seven Oaks College, with the construction of additional facilities being planned for next year. Last year, toys were provided for the children of prisoners in all metropolitan prisons, plus some regional prisons. Besides Outcare, more than 15 other groups also received donations.
In 2002 Pieta's passion for and dedication to Curtin FM was more evident than ever after a decision was made to close the station. Through troubled times, Pieta was an inspirational leader to the station volunteers and staff, and a key figure in developing the strategy which convinced the University to reverse its decision. Soon after, she became Acting Station Manager.
Pieta has been involved in countless other community projects, and is a particularly strong supporter of Boronia Pre-Release Centre for Women, coordinating donations for the Centre's toy library and hampers at Christmas, as well as highlighting issues facing Boronia on her program.
Pieta O'Shaughnessy is indeed a most worthy recipient of the John Curtin Medal.
Mr Gerard Neesham (2006)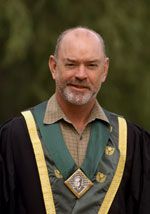 Gerard Neesham has used football, which has been an important part of his life, to build something that has profound, long term benefits for both individuals and the community.
Gerard was an Australian Rules footballer in both the Western Australian Football League (WAFL) and the Victorian Football League. He then displayed his leadership skills as coach of the Claremont Football Team in the WAFL and as the inaugural coach of the Fremantle Dockers in the national competition. Through these coaching roles Gerard established a connection with young Aboriginal footballers, and became aware of the cycle of disadvantage and disengagement confronting many Indigenous youth.
While relief teaching and coaching football at Clontarf Aboriginal College, Gerard identified an opportunity to make a difference. He had the foresight to realise that football provided an environment where young Aboriginal men do extremely well and that this success impacted positively on the players, their families and the wider community. He also understood how being part of a team can impart the sense of belonging that is so critical for young people.
Gerard developed a vision of using football to encourage young Indigenous students to re-engage with education. He saw football as a means of reconciliation, bringing Indigenous and non-Indigenous Australians together. Gerard developed the concept of an organisation that would encourage aspiring footballers to perform well academically and on the football field, and he set out to convince Clontarf to set up a football academy at the College.
Clontarf accepted Gerard's proposal, and he drew upon his determination, persistence and enthusiasm to raise the funds necessary to realise his vision.
The Clontarf Foundation Football Academy was established in 2000. The program goes well beyond just football training and school attendance. It teaches young Indigenous men good sportsmanship and healthy lifestyle practices, and helps students to find employment or further education.
Since the inception of the Academy, Gerard has given selflessly of his time to help Aboriginal boys achieve a future through football. Not content to have just a Perth program running, Gerard also worked at establishing regional academies. In its first term of operation, the College had approximately 50 students, and about 15 boys attending the football training sessions. Under the guidance and direction of Gerard, the program has expanded dramatically, with 440 boys enrolled in six academies across Western Australia.
The contribution Gerard's vision has made to the community is acknowledged across Australia and the model is now being introduced in Queensland and South Australia.
Gerard Neesham is indeed a most worthy recipient of the John Curtin Medal.
Boronia Pre-release Centre for Women (2006)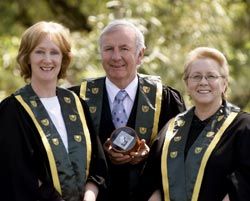 Boronia Pre-release Centre for Women is a leader in the field of justice. In an innovative project which is the first of its kind in Australia, the Department of Corrective Services has adopted a forward-looking model of imprisonment that recognises the diverse needs of women inmates.
The program structure and daily activities at Boronia mirror the responsibilities faced by women in everyday life and support a strong family and community focus. Boronia accommodates up to 70 women and their children in a community setting. The women live in Homeswest style housing and are responsible for their own cooking, cleaning, budgeting and grocery shopping at the Centre's supermarket.
The women are required to work or study during their time at Boronia and can enrol in traineeships in areas such as hospitality, horticulture, retail operations, asset management and retail supervision. Those involved in the hospitality course cater for many government and community functions. Through improved health, work and education skills, the women are empowered to take responsibility for their life choices, and therefore the risk of re-offending after release is significantly reduced.
Not only does Boronia help prisoners rebuild their lives, it also makes a positive contribution to the wider community. Boronia's unique community engagement and volunteer program builds mutually beneficial links with the community and local organisations. The women undertake valuable work in local businesses and not-for-profit organisations, encouraging them to develop new skills and build self-esteem as well as establish future employment links prior to their release.
Boronia women support many organisations such as their neighbours at Swan Care Group, Rowethorpe and the Baptist Theological College, as well as Edventures WA, Leeuwin Tall Ship, women's refuges, the ACTIV Foundation, Santa's Workshop and many more.
It has taken a great deal of vision and courage from key people to challenge the norm and pursue such an unconventional pathway. The development of Boronia initially attracted opposition within the community, but through tremendous leadership, determination and persistence, the community now largely embraces and supports the Centre.
The recidivism rate of women released from Boronia is less than one-third of the national average. This is testament to its success, brought about by the vision and leadership of its founders and the management of the current Superintendent and her team. In addition, the continued support of both the current Minister and Commissioner for Corrective Services has been vital to the continued advancement of Boronia.
Boronia Pre-release Centre for Women is indeed a most worthy recipient of the John Curtin Medal.
Work undertaken since receiving the John Curtin Medal
Boronia Pre-release Centre for Women was awarded the John Curtin Medal in 2006 for its innovative, forward-looking model of imprisonment that recognises the unique needs of women inmates. The project was the first of its kind in Australia, when the centre opened in May 2004.
The program structure and daily activities at Boronia mirror the responsibilities faced by women in everyday life and support a strong family and community focus. The centre accommodates close to 100 women and their children in a community setting. The women live in Homes West-style housing and are responsible for their own cooking, cleaning, budgeting and grocery shopping at the centre's supermarket. The women are also required to work or study during their time at Boronia and can enrol in traineeships in areas such as hospitality, horticulture, retail operations, asset management and retail supervision. Those involved in the hospitality course cater for many government and community functions.
Boronia's unique community engagement and volunteer program builds mutually beneficial links with the community and local organisations. The women undertake valuable work in local businesses and not-for-profit organisations, which encourages them to develop new skills, build self-esteem and establish future employment links prior to their release.
Through improved health, work and education skills, the women are empowered to take responsibility for their life choices, which thereby significantly reduces the risk of re-offending after release to less than one-third of the national average.
The development of Boronia initially attracted opposition within the community, but through leadership, determination and persistence, the community now largely embraces and supports the centre.
Such is testament to Boronia's success, brought about by the vision and leadership of its founders, the management team and the vital support of both the Minister and Commissioner for Corrective Services to the centre's continued advancement.

Mrs Lynne Evans (2005)
Mrs Lynne Evans began her career in nursing and midwifery, before going on to study a Bachelor of Applied Science in Community Nursing. Her interest in community work led her to the Health Department where her natural aptitude and leadership skills were soon recognised.
She was promoted to a senior management position as Coordinator of the Strategic Development Department at Sir Charles Gairdner Hospital. After a few years, Mrs Evans decided to forgo this prestigious role and pursue her primary interest, providing support and advocacy for the homeless.
For the past six years, she has worked as CEO of the Perth based St Bartholomew's House – an organisation that provides crisis and transitional accommodation as well as related support services for homeless people. Mrs Evans' vision for St Bart's is for a supportive and safe environment that looks beyond the boundaries of institutionalised care and towards services and facilities that provide individuals with the skills and support to function within the community. She understands that people don't simply become homeless; there are causes that may relate to mental illness, prolonged drug dependence or the economic environment. Once this has been understood, it is imperative that residents regain their sense of self-worth by reacquainting themselves with the society from which they have disassociated.
Mrs Evans' personalised approach to her work is remarkable. She demands that each resident is seen as an individual and is treated with respect and dignity. Mrs Evans personally involves herself in the hardest cases, making huge personal contributions by acting as next-of-kin to individuals who no longer have contactable relatives. She has personally cared for the sick and dying, often on weekends or overnight. In many instances, it has been left to Mrs Evans to ensure former residents receive dignified funerals and a place for their ashes to be scattered. Her commitment to this vision is echoed in the extraordinary leadership she exhibits as CEO of St Bart's, an organisation that has flourished under her direction. Originally St Bart's was a shelter for homeless men, consisting of only a few mattresses on a church-hall floor. The St Bart Independent Living Program, established in 1995, has grown significantly, with over 65 properties in the wider community.
Community service has complemented much of Mrs Evans' work at St Bart's. Whilst successfully steering the organisation to its current position, she has continued her voluntary work. She has been active in a wide range of government and non-government organisations, including being past chair and member of the Hills Community Support Group and is currently Chair of the Board of The Community Housing Coalition, WA. She has also presented submissions to the Human Rights Commission, Department of Health and Ageing and the Standing Committee on Environment and Public Affairs.
Through education, Mrs Evans believes the lack of support services and stigma surrounding the mentally ill and homeless can be overcome and she is committed to pursuing this mission. In 2003, she suffered a stoke and after only a short break returned to work more determined and enthusiastic than ever to continue her plans for St Bart's.
Mrs Lynne Evans is indeed a most worthy recipient of the John Curtin Medal.
Work undertaken since receiving the John Curtin Medal
The year in which Lynne Evans was awarded the John Curtin Medal heralded the beginning of a new building project for St Bartholomew's House and culminated in the opening of the $35 million St Bart's Lime Street, East Perth, in 2012.
As the homeless shelter's CEO until 2012, Lynne oversaw the project and overcame the many challenges along the way, with support from the board, staff and many donors including funding support from the federal and state governments.
For the first time in 50 years, St Bart's was able to offer women longer-term accommodation in its East Perth facility. The move to Lime Street also meant having land available for future development of accommodation for the homeless or those at risk of homelessness to achieve affordable housing on the old site. The ultimate facility sits comfortably in the East Perth community and has increased the range of homeless accommodation options.
Before Lynne retired from St Bart's, she began writing the history of the facility, particularly to highlight the many people who had contributed to St Bart's success and reputation. She proposes to publish 'The Heart of St Bart's' as an online book.
After finishing at St Bart's, Lynne served as acting CEO of the national homelessness peak body in Canberra, where she had been a board member for some years.
She then returned to her nursing background, working as a volunteer in Manila for two years, helping others in the treatment of cleft lip and palate, and burn injuries.
She has been Chair of Indigo Junction (formally Swan Emergency Service), which provides support and accommodation to homeless youth and many Aboriginal Families.
Lynne attributes her passion for community health to Emeritus Professor Robyn Watts, who she considers 'a guiding light' in promoting the importance of prevention strategies and care in the community.
Dr David Joske (2005)
Dr David Joske is a leading WA haematologist and founder of the Sir Charles Gairdner Hospital (SCGH) Brownes Dairy Cancer Support Centre, which opened in 2001.
Dr Joske has dedicated his career to alleviating cancer related illness and suffering through education, research and treatment. After graduating from The University of Western Australia in 1983, he went on to specialise in haematology. Dr Joske then travelled overseas, spending four years furthering his knowledge in the field before returning to Perth in 1994, when he was offered the prestigious position of Head of the Department of Haematology at SCGH.
After working for several years, it became apparent to Dr Joske that the current medical system did not provide sufficient support for cancer sufferers. Assistance beyond standard cancer treatment was not offered and as a result, many patients were looking toward alternative therapies, such as massage, counselling and meditation, to supplement their treatments. Dr Joske vigorously researched such therapies and found promising results. He was particularly impressed with the work being done by the MacMillian Cancer Relief program in England. Like others, he began to question why modern medicine automatically detaches the mind from the body, often ignoring the person in which the disease is living.
Dr Joske had a vision to re-examine the links between the body and mind through the vehicle of a cancer support centre, housed in a conventional hospital. The facility would offer touch-based, complementary therapies such as pranic healing, reiki, kinesiology, reflexology, massage, chi breathing and counselling. The service would be free of charge to patients and their carers. Not only would this centre provide the support that was lacking, it would also facilitate research into the effects of complementary therapies, through rigorous scientific research.
Under Dr Joske's leadership, this vision was realised. By 2001, he had attracted substantial sponsorship from Peters and Brownes foods and the Leukaemia Foundation, which was soon followed by in-kind assistance from Edith Cowan University and Sir Charles Gairdner Hospital. He was also instrumental in securing a team of interested doctors, researchers, business people, volunteers and collaborators that soon supported and ran the Centre. The Centre was the first of its kind to be established in Australia and remains a unique venture within a public teaching hospital setting.
Dr Joske has spent considerable time promoting the Cancer Support Centre. He has spoken at conferences around the country on the role of complementary therapies in western medicine. His reputation as a leading haematologist and the dedication with which he has pursued this vision have assisted in complementary therapies gaining acceptance in the community and winning over the most sceptical of critics.
Dr Joske's contribution to the community in Western Australia has been immense. As a leading specialist, member of countless medical boards and a university lecturer, he has used his expertise to educate and treat. His ability to look outside convention will be his greatest legacy. The Centre has proved hugely successful, offering over 15 complementary therapies and operating at maximum capacity with over 150 clients weekly. Researchers have measured the benefits of such therapies and have proven that the Centre's work unequivocally alleviates anxiety and has a measurable effect upon patients' quality of life. The facility has grown to such a point that a foundation is now needed to support all the extra work that is being undertaken; it will be named SolarisCare.
Ajahn Brahmavamso

Ajahn Brahmavamso – known to all as Ajahn Brahm – has spent the past 30 years as a Buddhist monk, practising and sharing his deep knowledge of Buddhist teachings in Western Australia, Australia and internationally.
After graduating from Cambridge University with a degree in theoretical physics, Ajahn Brahm travelled to north-east Thailand, where he was ordained as a Buddhist monk in the Theravada Forest Tradition. He came to Western Australia in 1983 to establish a monastery at Serpentine.
Ajahn Brahm's vision for a vibrant Western Australian Buddhist community has resulted in the establishment of three important spiritual centres: the Bodhinyana Monastery in Serpentine, the Dhammaloka Buddhist Centre in Nollamara and the new Dhammasara Nuns' Monastery in Gidgegannup. Under Ajahn Brahm's stewardship, the Buddhist Society of Western Australia has grown from a handful of individuals to become the largest multi-ethnic Buddhist society in Australia, promoting a strong dynamic of mutual support between the monastic and lay communities.
Nationally and internationally, Ajahn Brahm has become a key figure in Buddhism. In addition to being Abbot of what is now the single largest community of monks outside Asia, he is Spiritual Advisor to the Buddhist Societies of Victoria and South Australia. He has represented Australia at three Global Conferences on Buddhism, and is currently leading a team planning the Global Conference on Buddhism to be held at the Perth Convention Centre in 2006.
Ajahn Brahm's leadership is driven by a deep love and understanding of Buddhist teachings that he selflessly shares to help individuals find inner peace and happiness. Fluent in Thai and Lao, Ajahn Brahm has prepared a comprehensive guide to the intricate Buddhist monastic code – or Viyana – working from the original Pali texts. Acknowledged by leading scholars as a major achievement in modern Buddhist studies, the guide has become the practical foundation for monastic discipline around the world.
While a scholar and practitioner of strict monastic codes, one of the most engaging attributes of Ajahn Brahm is his accessibility. Often using humour, he has a profound ability to make the philosophy of Buddhism meaningful to those facing the difficult realities of life. His daily counselling in prisons, hospitals and schools is a reminder that Buddhism can alleviate suffering by nurturing self-acceptance and human compassion. What others see as extensive community service is, for Ajahn Brahm, the practice of the fundamental Buddhist principle of generosity. Everything Ajahn Brahm does is voluntary. Nothing is remunerated. Despite his busy schedule, he gives fully to his many responsibilities and to those whom he counsels and with whom he works.
It is indeed an honour for Curtin to award Ajahn Brahm the John Curtin Medal.
For more information on the Buddhist Society in Western Australia please visit:www.bswa.org
John Fawcett (2003)
Known as "Dr John" by the village people of Bali, has experienced a major transition in his life. Formerly the head of the Department of Art at Perth Technical College and a nationally recognised potter, John now spends his days in Bali helping to improve prospects for the sick and the poor.
After suffering a debilitating back injury which took him to the brink of death, John moved to Bali on a semi-permanent basis in 1985 to recuperate and was overwhelmed by the support offered by the Balinese people. Since then, he has dedicated his life to helping those who have helped him. John's determination to help others drove him to establish a mobile eye clinic in Bali, visiting those who were unable to get to the city for life-changing medical treatment to restore their vision. From his mobile clinic, up to 12 operations a day can be performed, giving hundreds of villagers the chance to see again.
Driven by his passion to improve people's lives, John established the John Fawcett Foundation in 1989. In keeping with his inspirational style of leadership, John then expanded his humanitarian work into other areas of health care, such as reconstructive surgery, training for local ophthalmologists, a mobility program and a medical supply program. Since the Foundation began, more than 1,400 cleft palate and cleft lip operations and at least 57 life-saving operations on children have been performed. Eleven Indonesian ophthalmologists have been trained, and over 15,000 cataract sufferers and 400,000 eye patients have been treated through the sight restoration program. In recognition of John's outstanding achievements, the Australian Government recently donated $2.4 million for the construction of a Community Eye Treatment Centre, with the foundation stone to be laid by Australian Prime Minister John Howard.
He has developed a program to assist children of poor families with school fees and books, and organised for millions of dollars of medical equipment to be transported from Australia to Balinese hospitals. John was also quick to respond to Bali's greatest hour of need – last year's Sari Club bombings – with the Foundation sending 50 Balinese victims of the tragedy to Australia for treatment.
John's work continues to expand. Currently awaiting funding approval is a plan to establish a tuberculosis screening laboratory in Bali. The clinic aims to not only treat patients, but also work towards the prevention of further tragedy.
Since the start of his incredible journey from well-respected teacher and artist to humanitarian worker, John has given the Balinese community what many had only dreamt of. Through his extraordinary vision, leadership and the determination to succeed, thousands of people now have the chance to live a normal life again.
Work undertaken since receiving the John Curtin Medal
Since John Fawcett established the John Fawcett Foundation in 2000, the foundation has grown to provide free medical aid to thousands of disadvantaged Balinese people. These services include children's corrective surgery, prosthetic eyes and other sight restoration procedures, assistance to desperately ill children and young people, and blindness prevention strategies.
For his exemplary humanitarian services, John and the foundation have gone on to receive wide recognition.
In the year John was awarded the John Curtin Medal, then Prime Minister John Howard granted aid funds to the Bali Department of Health to build a memorial eye treatment centre so that John's work could continue and expand.
John was awarded an Order of Australia medal in 2004, and in 2008, then Indonesian president Dr H. Susilo Bambang Yudhoyono presented him with the Satyalancana Kebaktian Sosial (National Indonesian Award), for his outstanding humanitarian work in Indonesia, especially in the provision of free cataract surgery to the poor in Bali and Nusa Tenggara Barat.
John received the Bishop Hale Medal in 2010, from his former high school, Hale School in Perth. In Indonesia, he was recognised also in 2010 for the foundation's participation in the Corporate Social Responsibility program of the City of Denpasar (eye screening and cataract operations). He also received an appreciation award for the foundation's support during the Air Force's community humanitarian activities.
In 2006 and 2008, the John Fawcett Foundation was selected by the Balinese Government as the best foundation/NGO working in Indonesia.
John attributes the foundation's success in Indonesia to the work of many dedicated volunteers. These include logistics people in Australia who organise medical equipment and supplies, fundraising volunteers, and medical personnel who travel to Bali to teach local doctors and medical staff new surgical techniques.
Sadly, John Fawcett passed away in August 2017.
Doug Paling (2003)
Doug Plaing has dedicated the past nine years to helping those in need through his tireless efforts in establishing the State's leading food distribution organisation for people in need, Foodbank Western Australia Inc.
Initially holding a position in the corporate sector, Doug chose to sacrifice his own financial security to pursue a dream. His dream was to create a single, dedicated organisation with the appropriate food handling skills and distribution networks to effectively tackle hunger in the community. Inspired by research indicating much of the $20 million worth of Western Australian produced food was being dumped or going to animal feed, Doug established Foodbank Western Australia in 1994 from the boot of his car. Doug's passion for the cause meant he quickly recruited professionals, tradespeople and general volunteers to help fulfil the dream.
A testament to his incredible determination and leadership, Doug now oversees the work of 40 core volunteers, five full-time and part-time staff and a large group of participants in various programs. He also employs people with disabilities from Rocky Bay Employment Services, giving them the chance to triumph over adversity.
Foodbank currently receives, collects and redistributes over 1.2 million kilograms of food annually, helping both those in need and the food industry. Last year alone, Foodbank provided half a million meals to those in need, using $1 million worth of edible but unsaleable food that would otherwise have been dumped.
Backed by a volunteer board of representatives from the corporate sector, food industry, community agencies and the government, Foodbank has forged important links with 400 community and welfare support agencies. Continually growing from its small beginnings in Perth, Foodbank has now established regional branches in Albany, Mandurah, Kalgoorlie and Geraldton, and maintains a close association with other Foodbank operations Australia-wide.
As part of an ongoing and ever-expanding community service ethos, education has become a significant part of Doug's work in building a better tomorrow. Initiatives such as the Health Department's "Foodcent$" program and "Apples for Kids" strive to teach young people the importance of healthy eating in the hope of preventing future problems.
Through his initial leap of faith, vision, leadership and passion for helping people, Doug has nurtured Foodbank into a widely recognised and respected organisation that is making a real difference in the community.
Brother Thomas Oliver Pickett (2002)
Brother Thomas Oliver Pickett has given more than 40 years of his life to helping others. From his early days as a teacher, football coach and mentor for at-risk youth, to his current community-based work, Brother Olly has always had an interest in helping young people.
His vision for all individuals to have their basic needs met and to feel valued has culminated in a series of projects that have helped those who are either underprivileged or disabled.
In 1993, in conjunction with the WA Education Department, Brother Olly developed a work-skill program in manual arts at Girrawheen Senior High School for at-risk youth. As the program grew, he taught skills in welding, brazing, creative model-making and painting to increasing numbers of young people who had experienced learning and emotional difficulties. Brother Olly's success led to a large proportion of these young people returning to mainstream studies at school with a new sense of purpose and focus.
At St Mark's Primary School and later at St Luke's College in Karratha, Brother Olly introduced the Duke of Edinburgh Award scheme, creating the largest group of participants in the award in WA.
His present major undertaking involves providing wheelchairs to children who are landmine or polio victims. With the support of the Rotary Club of Scarborough, Brother Olly set about designing and manufacturing low-cost, robust wheelchairs for children who have lost the use of their lower limbs through landmines or other causes of physical impairment.
His wheelchairs have found their way to children in India, Cambodia, East Timor, China, El Salvador and many other countries around the world. And his wheelchair factory has helped the many retirees who construct the wheelchairs feel valued in society.
Brother Olly's leadership has meant that he has been able to take an idea and convert it into a reality for people in need. His decision to become a Christian Brother is a testament to his lifelong commitment to serving others. With humility and dignity, Brother Olly has given the better part of his life to worthy community service.
Work undertaken since receiving the John Curtin Medal
Since being awarded the John Curtin medal in 2002, Brother Olly is still involved with Wheelchairs for Kids Inc. (which is under the banner of the Rotary Club of Scarborough), where he is Volunteer Workshop Manager.
The organisation has 190 volunteers during the week, averaging 45 volunteers a day, and makes 400 wheelchairs per month. More than 37,000 wheelchairs have been donated to disabled children in developing countries since the project commenced in 1998.
In 2010, Wheelchairs for Kids developed a wheelchair for children following the guidelines of the World Health Organization, in which the wheelchair 'grows' in size as the child grows. Postural support devices have been developed to ensure that even the most disabled child can use the wheelchair with as much comfort as possible.
Besides the volunteers who work in the organisation's four factories in Wangara, there are more than 70 women who sew the covers for the wheelchair's backrest cushions, the hip and trunk supports and headrest cushions. There are also hundreds of women, and some men, who knit and crochet colourful knee rugs and soft toys, which are sent as gifts with every wheelchair donated.
To date, underprivileged and disabled children in 172 countries have been given a wheelchair, with each wheelchair fitted to the needs of the recipient as best as possible. The Adjusta wheelchair enables the disabled child to be off the ground and enjoy mobility with dignity.
Brother Olly remains passionate and committed to what he considers a very rewarding project.
Mary Roskams (2001)
Mary Roskams epitomises the term volunteer during this, the Year of the Volunteer. Her contribution to the wider community has been quiet, self-sacrificing and, in a formal sense, largely unrecognised. Her vision for assisting international students in need has had a lasting impact on Australia's diplomatic, trade and cultural relationships with a range of developing countries throughout the world.
The leadership she has demonstrated in both her professional and volunteer capacities has served to reinforce the commitment she has for those in need. Mary has worked for almost 20 years with Australian aid organisation AusAID, as the Social Worker and Community Development Officer for Overseas Students in Western Australia. She has organised overseas welcome camps, social events, international women's groups, trained student leaders from Australia and overseas, and provided a support network for anyone in need.
Recently retired, Mary continues to exhibit true leadership, taking on the role of Executive Officer of the voluntary organisation, the Council for International Students of Western Australia (CISWA). In this role, Mary contributes to the promotion of cultural understanding within WA, working with representatives from local universities, technical colleges, schools, private colleges, service clubs and cultural and ethnic associations.
Most of the work Mary has undertaken, whether as a volunteer or working professional, has affected the wider community. Community Service has been central to everything she has done. In addition to her work with AusAID and CISWA, Mary has also been heavily involved as a volunteer with Scripture Union, a worldwide organisation offering programs and camps for children and youth. The awarding of the John Curtin Medal acknowledges not only the impact Mary's lifetime of work has had locally but the impact of her work globally, reaching international communities through her involvement with their youth.
Barry Jones (2001)
Dr Barry Jones AO is Australia's longest serving Minister for Science and has devoted much of his career to promoting the importance of science and technology in Australian education and industry.
Dr Jones has shown great VISION with his commitment to the expansion of science and technology programs throughout Australia, particularly within Australian universities. He has been and continues to be a strong and powerful advocate for scientific research. His lifelong interest in science has included fighting for the growth and development of science education.
Dr Jones has exhibited true leadership throughout his working life. He began his career in the public service, and has worked as a high school teacher, lawyer, arts administrator and university lecturer. He became a Member of Parliament in 1977 and has had a distinguished parliamentary career, including serving as Minister for Science from 1983 to 1990. Throughout his career, Dr Jones has continued to fight for the advancement of science in Australia. He has been a strong supporter of the CSIRO, and is credited for the establishment of the National Science Centre in Canberra. As Minister for Science he created the Australia Prize in Science and Technology, and the Commission for the Future.
Community Service has been central to much of Dr Jones' work. His commitment to community service is demonstrated through his voluntary roles as a Board member of CARE Australia, as Chairperson of the Cooperative Research Centre for Coastal Zone, Waterway and Estuary Management, and as Deputy Chairperson of the Port Arthur Historic Site Management Authority.
Dr Jones has been the recipient of the Raymond Langford Award for his work in reviving the Australian film industry and the Redmond Barry Award for services to libraries. He has been awarded honorary doctorates by a number of Australian universities, and was made an Officer of the Order of Australia in 1993. Barry Jones Bay in Antarctica and Yalkaparidon jonesi, a rare extinct family of marsupials, were also named after him in recognition of his extensive contribution to science.
Work undertaken since receiving the John Curtin Medal
Dr Barry Jones has remained heavily involved in community work since he was awarded the John Curtin Medal in 2001.
Having once served as National President of the Australian Labor Party from 1992 to 2000, he again held office from 2005 to 2006.
His involvement in public affairs since 2001 has been extensive. In 2010, he was a Member of the Australian Delegation to the World Heritage Committee in Brazil. From 2008 to 2015 he was Director of Victorian Opera. He has served on numerous boards in various organisations, including as Chair.
Dr Jones became Professorial Fellow at the University of Melbourne in 2007 and, since 1999, has been Adjunct Professor at Monash University and a Visiting Fellow Commoner at Trinity College, Cambridge.
He has published numerous books, including Coming to the Party (2006), A Thinking Reed (2006), Dictionary of World Biography (2013; 2016), The Shock of Recognition (2016) and Knowledge Courage Leadership (2016).
He has been generously recognised since 2001, with Honorary Doctorates from the University of Melbourne (LLD, 2002), Australian National University (DLitt, 2004) and Griffith University (DUniv, 2011). He received the Research Australia Lifetime Achievement Award in 2008 and was awarded an AC (Companion in the General Division of the Order of Australia) in the Queen's Birthday Honours List 2014.
Dr Jones continues to campaign for "rational, compassionate, evidence-based approaches" to key issues such as the refugee crisis, growing tensions between Muslim and non-Muslim societies and communities, meeting the challenge of climate change and moving towards a post-carbon economy, among numerous other causes.
John Embling and Heather Pilcher (2001)
John Embling and Heather Pilcher have devoted the last 25 years to helping young people who are victims of homelessness, drugs, racism, abuse and violence. Their vision for providing abandoned and alienated children with opportunities has made a huge difference to the lives of a generation.
Both John and Heather have shown selfless leadership. John trained and worked as a teacher of remedial English at a technical college in Melbourne, where he encountered adolescents, victims of abuse and neglect, who had minimal reading skills. Heather had already spent 10 years working with street kids when she met John in 1975. Impressed with her work, John decided to give up his paid teaching position to work with Heather in a bid to provide alternatives to children who might otherwise end up on the streets.
The early years of working together were extremely difficult. They had no income to support their work until John's first published success, a story recounting his struggle to help a young student. John wrote his first book in 1978, entitled Tom: A Child's Life Regained, describing how he battled, as a young schoolteacher, to save the life of an angry, brutalised young boy. The book was an overnight success and not only provided financial assistance but also the publicity and promotion needed to raise awareness of their ongoing project. In 1985 John completed Fragmented Lives: a darker side of Australian life, describing the Australia experienced by less fortunate members of our community.
As part of their community service work, John and Heather have established Families in Distress, a Foundation which provides emotional support for those in need, as well as comfortable accommodation for up to 10 children who would otherwise be living on the streets. Broadcaster and media identity Phillip Adams is a trustee of the Foundation and a champion of its cause; donations from readers of his columns have provided up to 90 percent of the money used to support the Foundation.
John and Heather have encountered many personal obstacles in undertaking their work, with both suffering attacks from gangs. John has also been beaten, stabbed and deliberately run down. The years of working 18 – 20 hours a day, in such difficult circumstances, have taken their toll, and both John and Heather have suffered very poor health in recent years. Despite this, they continue their commitment to improving the lives of homeless children. They have made many sacrifices and continue to battle against the odds to fulfil their vision for a better community.
Vanessa Elliott (2001)
Vanessa Elliott is the embodiment of community spirit. All that she does is motivated by her vision for improved opportunities for the Indigenous community, especially those within her remote north-west community of Halls Creek.
Vanessa went to school in Halls Creek and Geraldton, and has completed two years of a Bachelor of Arts in Journalism and Literature at Curtin. Vanessa has temporarily deferred this study to devote her time and energy to improving conditions in her local community by completing a Bachelor of Applied Science in Community Development externally. Vanessa has demonstrated true leadership, as at 25 years of age, she is one of the youngest Local Government Community Officers in WA. Her work involves raising the profile of her community and improving the quality of life for the residents of Halls Creek and she has achieved this through various means.
Vanessa was responsible for securing a $1.1 million grant from the Ministry of Sport and Recreation to build a Community Resource Centre and an Aquatic and Multi-purpose Centre in Halls Creek. She has also organised reconciliation activities in Halls Creek for the past two years, with more than 1,000 people attending last year. This event has been identified by the Reconciliation Council as achieving the highest attendance per capita in the state.
She has also secured $45,000 from the Federal Government for the implementation of a youth suicide prevention program for Halls Creek; established the Halls Creek Youth Advisory Council, consisting of 30 youth from her community; has conducted a skills audit, which resulted in the employment of Indigenous youth at local mines; has organised art exhibitions to boost the profile of Halls Creek and its artists; wrote and produced the 2001 Shire Directory; developed and produced a tourist map; has implemented a highly successful Youth Safe Sex Project; and works as a Youth Coordinator with two trainee youth workers.
Vanessa was the runner-up in the 2001 WA Young Person of the Year award. She was also named winner of the Leadership Award at the 2001 WA Youth Awards and was recently named NAIDOC Youth of the Year. Vanessa has served as a representative on the National Youth Roundtable, has developed Community Action Plans for the Federal Government and has recently been asked to serve on the newly formed National Indigenous Roundtable.
Commitment to community service is central to all that Vanessa does. Her leadership and vision for indigenous people has had an enormous impact on her local community, reinforcing the notion that one individual can make a difference.
Chris Lewis (2000)
Chris Lewis has a clear vision of a better world for young people from difficult and underprivileged backgrounds, in particular those who are young Aborigines, his people's future.
He has excelled as a leader, from his first years in the Teal Cup representing Western Australia, through 14 years as an on-field and off-field role model in the Australian Football League.
Chris serves the community working with youth groups in schools and surrounding areas. He visits the Nollamara Community several times a week to "just have a chat with the kids" and much, much more. He also appears on television to inform the wider community about the importance of providing opportunities for young people.
Throughout his football career, Chris was often vilified through racial taunts and media abuse. Always, for himself and the Aboriginal people, he fought back to win the respect of everyone in the game and in the wider community. This was recognised last May when over 30,000 people marked his retirement from football with a standing ovation as he took a lap of honour at Subiaco Oval.
Chancellor, Chris Lewis is already an icon in Western Australia, well known yet unassuming, respected and loved as one of the state's greatest footballers of all time. Throughout his life he has inspired young and old people with his ready smile, his courage in adversity, and his espousal of family values.
Like John Curtin, Chris is now dedicating himself to work for the betterment of life in the wider community, in particular for young Aboriginal people.
Dame Rachel Cleland (2000)
At a time of life when many would expect to be enjoying retirement, Dame Rachel Cleland has been lobbying, campaigning, and actively 'working for the forests'.
She is also someone who knew John Curtin, not only as a prominent politician but also as her local member. After Curtin died in July 1945, Dame Rachel's late husband Don won pre-selection to contest the vacant seat of Fremantle, the very first candidate in Australia of the newly formed Liberal Party.
Dame Rachel was a kindergarten teacher when she married in 1928. Like all married women at that time she was required to resign. She dedicated the ensuing years to working for others, especially in New Guinea when Port Moresby was being rebuilt in 1951. Before and after her husband was appointed Administrator in 1953, she served the New Guinea community with great distinction, continuing after he retired in 1967, and for four years after his death in 1975.
Her vision then, which she pursued with her customary vigour, was for the development of associations for women of all ages in the towns and villages of Papua New Guinea.
Since returning to Perth 20 years ago she has thrown herself into many causes. The first major cause was rescuing her old Kindergarten Teacher's College, Meerilinga, in West Perth. Not only was the building saved but it now houses the Meerilinga Young Children's Foundation, and the Young Children's Services Inc., filling a long felt need in Perth.
The most recent cause, which also saw her described as "the matriarch of the Liberal Party", is saving the old-growth forests in the South-West of Western Australia. According to Dame Rachel, it is these sorts of activities that are the secret for living a long life.
Dame Rachel is still a role model for others. The Hon Colin Barnett is on record as saying about her only last year: "She reminds party members and politicians of what their true values are, or should be".
The Granny Smith Gold Mine Company (2000)
The Granny Smith Gold Mine Company has shown leadership to the mining industry in Australia particularly in working with Native Title claimants for a just resolution of the issues, regular ongoing cultural awareness training of all its staff, and mine site rehabilitation.
'Granny Smith' is regarded by its peers as being at the leading edge of the development of sustainable environmental practices, and the employment of Aboriginal people in mainstream jobs on mine sites.
'Granny Smith' has worked with the local communities of Laverton and Leonora to increase training opportunities for Aborigines. They have facilitated mutually beneficial community partnerships, including Curtin Volunteers!, to enable projects such as:
Paving of roads in Aboriginal communities to minimise dust and respiratory problems
Initiating a safety signage program on dust exposure
Providing materials and transport assistance for the local hospital
Helping fund the services of a doctor for local communities
Supporting the construction of a new community ambulance centre.
Through its parent company Placer Dome Inc, 'Granny Smith' is part of the World Alliance for Community Health. In association with four other companies, Placer Dome is working with the World Health Organisation (WHO) to rid indigenous communities of malaria and other mosquito borne diseases in several areas of Papua New Guinea. Placer Dome is the only mining company in the world to have had more than one project approved by WHO.
Granny Smith and Placer Dome have eschewed short-term profits, through a longer-term strategy that seeks to build public confidence in the company as a responsible corporate citizen.
The awarding of the John Curtin Medal to Granny Smith Gold Mine Company acknowledges and acclaims publicly the stand 'Granny Smith' has taken regarding setting mining industry benchmarks for working with indigenous communities and establishing sustainability practices. The award should also engender the support of the wider community for mining companies who respect the needs of people and the environment they live in.
Margaret Culbong (1999)
As part of her vision of improving the health and welfare of Aboriginal people, Margaret Culbong has been instrumental in setting up Aboriginal-controlled health services and in raising the profile of Aboriginal health issues throughout Western Australia.
As an enrolled nurse, Margaret worked in both the Kimberley and the Murchison Gascoyne regions, experiencing first-hand the many health problems faced by Aboriginal communities.
Since the early 1970s she has worked both within government agencies and Aboriginal organisations to develop health services relevant to Aboriginal needs.
As a founding member of the Geraldton Regional Aboriginal Medical Service committee, and its Executive Director since 1996, she has helped develop this Aboriginal-run and controlled organisation, which now offers a full range of health services to Aboriginal people, including mental health services. She has also used her significant energy and determination to help establish similar services in Wiluna and Carnarvon and to set up a mobile clinic which services out-stations in the Murchison Gascoyne region.
Growing up as an Aboriginal in a post-war Central Wheatbelt town – discriminated against and with no real voice – Margaret has fought in many arenas to ensure that Aboriginal people are heard and their rights respected.
As well as being instrumental in getting more Aboriginal Health Workers employed by the Health Department, she has been involved in establishing the role of Aboriginal Education Workers within the Education Department and in establishing the need for an Aboriginal Visitors Scheme within WA prisons.
In addition, Margaret has provided leadership at local, state and national levels through her membership of a range of health and social justice bodies, including the National Aboriginal and Islander Health Organisation, the Geraldton Streetwork Aboriginal Corporation, the Combined Universities Centre for Rural Health, the State Aboriginal Justice Council and the Health Department of Western Australia's Ethics Committee. She is an Executive Member of both the State and National Aboriginal Community Controlled Health Organisation.
Despite her numerous commitments, and that she has been beset by health and family problems, Margaret has always been available to her community. She is regularly contacted as an adviser, a counsellor and as an agent of change in issues ranging from housing to welfare, legal assistance and family support.
The awarding of the John Curtin Medal to Margaret Culbong enables the University to recognise the significant contribution she has made to Aboriginal health and welfare and the wonderful role model she provides for Aboriginal people.
Recognising her outstanding vision, leadership and community service will help to emphasise the importance of self-determination for Aboriginal people and will solidify the respect that is held for Margaret within the Aboriginal community.
Monique Lin (1999)
Monique Lin's vision of building business links between Australia and China is taking shape at a very rapid rate, thanks to her exceptional work commitment and skills as a facilitator.
Monique left China to come to Curtin as a full-fee paying student in 1988 and completed postgraduate studies in business in 1990.
Since then, she has demonstrated extraordinary leadership qualities, forging significant business links between China and WA and has been named as one of China's twenty best known women business leaders.
Her current roles include advising the Geraldton Fisheries Corporation, managing the marketing of WA beauty care in Beijing and the marketing of Chinese restaurants in Perth, assisting Curtin University's China Projects and helping the WA Department of Commerce.
She has also co-ordinated the visits of important Chinese business and political leaders to WA over the past 10 years and has assisted Curtin in establishing a number of strategic links with universities in China.
Her community contributions include helping to develop the WA Chinese Chamber of Commerce, of which she was an inaugural executive member, and providing advice and assistance to a number of WA business, political and educational delegations visiting China.
Her efforts have received support from both the Western Australian Premier, Richard Court, and the Prime Minister, John Howard, who has acknowledged her for her generous assistance to the Australian business community.
Monique is a quiet achiever who, like John Curtin, approaches all her endeavours with great humility.
The awarding of the John Curtin Medal to Monique Lin enables the University to recognise one of its own alumni who has become a true citizen of the world, using her knowledge and learning to further international co-operation and understanding.
Recognition of her outstanding vision, leadership and community service will help establish Monique as a role model for international students to become ambassadors and bridge-builders in creating global links and improving international relations.
Peter Moyes (1999)
Peter Moyes has played a leading role in education in WA over the past 40 years.
As part of his vision of creating a progressive education system, he has focused community attitudes about education and provided the intellectual and motivational leadership needed to promote change.
As well as being an inaugural member of the Commonwealth Schools Commission, when it was set up under the prime ministership of Gough Whitlam, he was responsible for setting up the first remedial education centre in WA.
Peter was the Principal of Christ Church Grammar School for 31 years and prided himself on his ability to remember the name of every boy who went through his school. Today, Christ Church is widely recognised as one of our most outstanding schools with a well-deserved international reputation.
Peter was also a founding member of Curtin University's first Council, in the days when it was the Western Australian Institute of Technology, and helped provide it with direction in its important early days as a new-style centre of learning.
After retiring from his position at Christ Church in 1981, he set up the Anglican Schools Commission, became its first Chairman, and was directly responsible for the establishment of five Anglican schools which offer low fees to students.
He has until recently continued to work at a furious pace for his community, demonstrating an extraordinary ability to meet challenges and to energise those around him.
His life has been a celebration of the values of honesty and selflessness.
To commemorate his exceptional achievements, an Anglican community school is currently being built at Mindarie which will bear his name.
The awarding of the John Curtin Medal to Peter Moyes enables the University to also recognise the enormous contribution he has made to the field of education, and to celebrate a career of true service.
Recognising his outstanding vision, leadership and community service will help to cement the close ties that he holds with this institution and highlight the important difference that committed and far-seeing individuals can make within their chosen field.
Professor Tommy Koh (1999)
Tommy Koh's vision is to build a gentler, more sophisticated and cosmopolitan Singapore, with strong diplomatic and cultural links world-wide.An international leader in promoting environmental responsibility and a reduction in international conflict, he has also taken the lead in championing the arts and greater creative freedom in Singapore and has consistently supported a number of difficult and unpopular causes throughout his career.
He is a consistent advocate of cross-cultural learning, understanding and co-operation.
A lawyer by profession, Tommy has held the positions of Dean of the Faculty of Law at the National University of Singapore, Singapore Ambassador to the UN and the USA, Director of the Institute of Policy Studies, Executive Director of the Asia-Europe Foundation and Chairman of the National Arts Council.
His commitment to community service within Singapore and internationally has often been at the expense of his own legal career.
Kofi Annan, Secretary-General of the United Nations, who has been one of the most influential humanitarian voices in the UN General Assembly and a most effective diplomat in negotiating peace agreements over the past three decades, provides the following assessment of Tommy:
Amid an era of historic transformation, Ambassador Koh has remained a steadfast advocate of dialogue and co­operation to resolve problems through mutual accommodation, for the greater common good. He has also been a constant supporter of the United Nations as a unique instrument of global service.
The awarding of the John Curtin Medal to Professor Tommy Koh applauds his commitment to peace, co­operation and creative freedom and recognises the significant contribution he has made to international relations over the past 30 years.
Recognising his outstanding vision, leadership and community service will hopefully provide an incentive to Tommy to build the same links with Australia as he has built with Europe and the United States of America.
Dr Eric Tan (1998)
Upon graduating in medicine from the University of Western Australia 30 years ago, a young doctor made his first mark on Australian history.
Eric Tan, born in Malaysia of Chinese parents, became the first overseas student to graduate at the top of his class at any medical school in the nation.
This was the beginning of a lifetime of significant achievements for Dr Tan, who has not only influenced major medical procedures in Australia and overseas, but has campaigned against racism and worked tirelessly for Australia's youth.
Dr Tan's early vision was that the Chinese community would become part of mainstream Australia and he used his position as President of the Chung Wah Association and National Coordinator of the Conference of the Australian Chinese Community to bring this about.
Helping to establish the Western Australian Chinese Chamber of Commerce, Dr Tan has attracted political, academic and business leaders from Australia and Asia to speak at the Chamber's renowned 'Coffee Shop Forums'.
As a surgeon, Dr Tan pioneered the now commonplace endoscopic 'keyhole' surgery in Australia and has taught the technique overseas.
More recently, he established a pharmaceutical joint venture in China and set up the Vietnam International Hospital in Hanoi with the support of other Australian doctors.
His passion for harmonious community relations was evident in his involvement in organising a testimonial photograph of many Western Australian community leaders holding their hands up in harmony – the project won the United Nations Peace Prize in 1997.
Celebrating Australia Day 10 years ago were various community groups performing in the Oz Concert – staged by Dr Tan – which is now an annual event and telecast in many other countries. Reflecting this interest, he was appointed to the Board of SBS Television for three years.
His tireless work for Australian youth was highlighted during the last recession, when, with the help of some friends, he established Project Employ Youth, which found more than 1,000 jobs for unemployed young people.
He was instrumental in persuading the CSIRO to locate its National Centre for Petroleum and Mineral Resources in Perth.
Dr Tan's keen support of many worthy causes has helped to improve the lives and made a lasting impact on many people in Australia and overseas.
Dr George O'Neil (1998)
Finding new ways to improve techniques and equipment in the medical field is an ongoing ambition for Perth obstetrician, Dr George O'Neil. Dr O'Neil's inventive skills are making an impact in widely different areas of medicine.
The new medical equipment he has designed is simpler, safer, more efficient and cost effective than previous alternatives. It has enabled him to establish a business – Go Medical – to export his inventions to all corners of the world.
He also runs a busy obstetrics practice but is best known for his life-saving work in the treatment of drug addicts, which has seen the 49-year-old doctor face criticism from the medical establishment in his fight to establish the Naltrexone treatment in Western Australia.
Dr O'Neil's courage in tackling heroin addiction in our community means he continues to be opposed by some colleagues in medical and bureaucratic circles.
His treatment has met with huge success in Perth – over 800 heroin users have been treated by Dr O'Neil, with a 75 per cent success rate.
Involving an addict's loved ones in the healing process plays a key role in the administration of the treatment. Naltrexone always works, but the addict must come back for continued treatment.
"Most people give it up and this treatment has been sitting on the shelf for 20 years," Dr O'Neil said.
A breakthrough in the treatment of addicts has been to involve close family and loved ones. This has made a big impact on the success of the program. "Parents are saying to me, 'I've been looking for this type of help for my kid for so long – and it really works."
Dr O'Neil's tireless work for others includes designing a better pain management system, eliminating time-consuming processes to ease diarrhoea in sick children of Third World countries and rising to the challenges in his own home where he and his wife care for six children (one autistic).
In acknowledging him for his vision, leadership and community service attributes, the University has awarded the John Curtin Medal to Dr O'Neil in the hope that it will provide an important affirmation to him and his many volunteers that he is making a difference to the lives of many people.
Work undertaken since receiving the John Curtin Medal
Dr O'Neil's work in the treatment of drug addiction and in more accurate drug delivery has continued to deliver research and service opportunities since 1985.
Since the year he was awarded the John Curtin Medal in 1998, his work has been shared with Curtin's School of Pharmacy, The University of Western Australia's School of Psychiatry and Clinical Neurosciences, the Fresh Start Recovery Programme, Go Medical Industries Pty Ltd and the Department of Health in WA, allowing the development of new industries and improved patient care.
Dr O'Neil has been awarded a series of medals including the Australian Medical Association Outstanding Doctor of the Year 1999, WA Citizen of the Year 2000 – awarded by Perth City Council – and Australian Entrepreneur of the Year 2002.
In almost 20 years since the award, 11,500 patients have presented to the Fresh Start Recovery Programme, which Dr O'Neil founded. The drug addiction recovery program has established properties and services to care for patients and their families in Busselton, two locations in Northam, Kewdale, Subiaco, Mt Lawley, Warwick and Alexander Heights.
As a result of research published in more than 100 publications by Professor Gary Hulse and Dr Stuart Reece, who have both worked closely with Dr O'Neil, an increasing number of addiction specialists in Europe, the US and Australia today accept that opioid addicts and benzodiazepine addicts are best treated with opioid blockers with new delivery systems Dr O'Neil developed in Perth, which are useful in the management of amphetamines and alcohol addictions and benzodiazepine addictions, in addition to heroin addiction.
These improvements have been associated with the development of naltrexone implants produced by Go Medical Industries, a company Dr O'Neil developed in Subiaco in 1985.
The new treatments are now attracting interest from the US government, with work currently commencing at Columbia University in New York. The locally made implants are also being used in Europe.
May O'Brien (1998)
As an inaugural recipient of the John Curtin Medal, Aboriginal educator May O'Brien feels honoured to be compared with former Prime Minister John Curtin.
"I am extremely surprised at the award, but also very honoured because John Curtin was also a visionary. He worked hard for his people at the grass roots level — that's what he stood for," Ms O'Brien said.
Ms O'Brien's vision was that one day universities throughout Australia would have hundreds of Aboriginal students. She was instrumental in setting up the Aboriginal bridging course at Curtin University of Technology to give young Aboriginal people a chance to receive a tertiary education.
"It was a long struggle to get the bridging course considered because they were worried about people getting through the back door into university," she recalled.
"But I told them that when they were finished, they could proudly go through the front door."
Ms O'Brien is no stranger to pride. Born in 1933 near Kalgoorlie, she recalls having to leave the local townsite at noon every day – it was a white man's law that no Aboriginal person be in town after that.
She was placed at an early age in the Mount Margaret Mission near Laverton until 1950.
She headed for Perth where she loved high school so much that she became a qualified teacher and returned for five years to the mission that raised her.
Ms O'Brien was a leader in the field of education and in the Aboriginal community, teaching for 25 years at rural and metropolitan schools before establishing Aboriginal Committees on Education throughout Western Australia to increase the awareness and understanding of teachers of the needs and aspirations of Aboriginal people.
In 1984, she was awarded a Churchill Fellowship to study overseas educational programs aimed at enabling indigenous people to retain their own cultural identity while adjusting to mainstream culture.
She took early retirement 10 years ago to pursue her passion for writing children's literature, and has continued a busy role in community service activities.
She has been active in sports coaching, served on various committees of Aboriginal concerns, and appeared before the Royal Commission into Aboriginal Deaths in Custody, the Parliamentary Select Committee into the Achievement of Indigenous Peoples of WA, the Beazley Inquiry into Education in 1983/4, and the Schools' Commission Consultative Group (the Karmel Report).
"I have a lot of energy and I am so interested in people and what I can give back to WA and my country," she said.
Priya Cooper (1998)
Priya Cooper had just broken a world record in the 400-metre freestyle when she heard she was one of the inaugural recipients of the John Curtin Medal.
"It has been an incredible day for me," the 24-year old Curtin student exclaimed after knocking more than two seconds off the record at the recent Paralympic World Swimming Championships in Christchurch, New Zealand.
Ms Cooper, who has cerebral palsy, virtually leapt into the deep end of competitive swimming when she took up the sport as a form of therapy. Top performances at a school carnival revealed her swimming potential, and in her first national competition she won a staggering nine gold medals.
Her swimming career gathered momentum and in 1994 she went to the World Swimming Championships for the Disabled in Malta as captain of the Australian team.
She was female captain of the Australian team at the tenth Paralympic Games in Atlanta and won numerous gold, silver and bronze medals for her efforts in the pool. Winning the most medals of any Australian athlete at the Atlanta Paralympics, she carried the Australian flag at the closing ceremony.
"Curtin has done so much for me," Ms Cooper said. "Everyone has always been really helpful with my swimming and helping me achieve all my goals. So to get this honour from the University is just amazing."
The health promotion and journalism student balances her studies with a rigorous training schedule and still finds time to give motivational talks on her subject, 'Success is a Choice'. Her talk recently received a standing ovation at a Sydney Olympics Organising Committee function attended by 800 people.
Ms Cooper is no stranger to medals and awards. She holds an Order of Australia medal, and her accolades include being selected as an Australia Day Ambassador, Ambassador for Sydney 2000, being nominated for WA Sports Champion of the Year and Coca-Cola Sports Star of the Year, being inducted into the Australian Institute of Sport Hall of Fame and receiving the Institute's Outstanding Achievement award.
But the John Curtin Medal is a huge thrill.
"It is a great honour to receive this inaugural award and even be nominated," she said. "Knowing of John Curtin's history in WA and Australia and his connection with the University, it's amazing that I am even considered in that league."