This internet browser is outdated and does not support all features of this site. Please switch or upgrade to a
different browser
to display this site properly.
If COVID-19 restrictions apply, we may need to make changes to units and/or delivery modes.
Physics (Advanced)
Undergraduate Major
MJRH-ADPHY
Major

Physics Major (BAdvSci) (Honours)

Admission criteria

Guaranteed ATAR 95
800
Outline
The Physics major (BAdvSci) (Honours) provides a flexible and personalised approach to studying Physics with students able to explore the field through for-credit immersive research experiences, industry placement and/or interdisciplinary team-based projects.
If COVID-19 restrictions apply, we may need to make changes to units and/or delivery modes.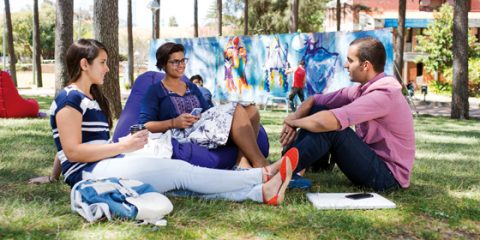 Top 1 %
Curtin is ranked in the top one per cent of universities worldwide.
Academic Ranking of World Universities 2021.
Get the Curtin edge
Access to leadership programs, specialist facilities and industry placements give you a competitive edge in the job market.
Global education
You'll have access to a range of international study opportunities.
Those who study physics are fascinated by fundamental questions about the origin, nature and function of our Universe. Physics seeks to explain relationships involving the smallest and the largest structures, utilising the four known forces: strong, weak, electromagnetic and gravitational.
This major is part of the Bachelor of Advanced Science (Honours), designed for high performing students to pursue their interest in Science through a core of research, leadership and entrepreneurship. The flexible and personalised approach to studying physics enables you to explore the field through for-credit immersive research experiences, industry placement and/or interdisciplinary team-based projects. It provides opportunities for you to source and undertake internal and external internships and immersive work experiences, which can be used for course credit.
Your capstone experience offers you the opportunity to pursue physics projects that may be based anywhere from pure research right through to translational (entrepreneurial) science.
You can gain considerable knowledge and skills, while conducting physics experiments and solving real-world problems mathematically or computationally, which find application in a wide range of careers.
The high-level mathematics and computer science in this course aligns it with high-profile international projects such as the Square Kilometre Array.
Work-based learning is ensured through the requirement to engage in immersive industry and/or research experience.
This major sits within the Bachelor of Advanced Science (Honours) degree. To apply for this major, you will apply for the Bachelor of Advanced Science (Honours).
See our handbook for more course information. 
Why study
We offer a high-quality, student-centred learning environment, that offers personal attention from academic staff at all levels.
The integration of embedded research projects with our postgraduate research groups is exceptional, with high postgraduate and staff numbers relative to undergraduate students. This leads to a very high undergraduate engagement with our research teams and international collaborators.
Graduates enjoy a high level of employment flexibility, as their analytical ability, problem solving skills and logical thinking is broadly applicable at the highest levels of industry or government organisations.
How this course will make you industry ready
Through embedded research and industry engagement, you'll have the opportunity to investigate multiple areas of specialisation and tailor a final-year experience that prepares you for the career of your choice.
Student profile
View our student profile table to get an indication of the likely peer cohort for new students at Curtin University. This table provides data on students that commenced undergraduate study and passed the census date in the most relevant recent intake period for which data are available. It includes those admitted through all offer rounds and international students studying in Australia.
Professional recognition
Graduates are eligible for membership of the Australian Institute of Physics (AIP). Many international equivalents of the AIP also accept graduates as members.
This course is also endorsed by the Naval Shipbuilding College.
Career information
Careers
Astrophysicist
Computational physicist
Environmental physicist
Finance analysts
Materials analyst
Medical Physicists
Meteorologist
Satellite remote-sensing scientist
Industries
Astronomy
Defence
Environmental consultation
Manufacturing
What you'll learn
demonstrate an advanced knowledge of the nature of science, its methods and processes, and an advanced ability to apply physics knowledge and understanding to solve physics problems and recognise the limitations of physics theories and the problem solving capability of physics
analyse challenging and multi-faceted problems and generate testable theories to examine them; generate innovative solutions to problems by designing and carrying out physics experiments, integrating new and established knowledge
access and make judgements on the value of a wide variety of existing information in the physical sciences; compare, contrast and develop new interpretations using physical science results and information from a wide variety of sources on the basis of reliability, accuracy and precision
communicate approaches, ideas, findings and solutions to problems concisely and coherently in a variety of modes to informed professional audiences
design/build/use appropriate experimental apparatus or algorithms to solve problems; apply appropriate technologies to solving problems while evaluating their limitations and advantages
understand that physics is a dynamic field of study; demonstrate initiative and intellectual independence by taking advantage of opportunities for continuing education
consider problems in the physical sciences from a global perspective and recognise the inherent universal nature of the physical sciences
work collaboratively and respectfully with colleagues from a range of cultural backgrounds and recognising that nature-physics and its language are a-cultural
collaborate effectively as a leader of research or as part of a research team while applying an ethical approach to analysis of scientific data and information
Help
Help is at hand
See our frequently asked questions or get in touch with us below.
---
Opening hours:

Mon to Fri: 8.30am – 4.30pm, except Tues: 9.30am – 4.30pm (AWST). Closed public holidays.
Curtin course code:

MJRH-ADPHY

Last updated on:

05/08/2022
Which statement best describes you?