This internet browser is outdated and does not support all features of this site. Please switch or upgrade to a
different browser
to display this site properly.
If COVID-19 restrictions apply, we may need to make changes to units and/or delivery modes.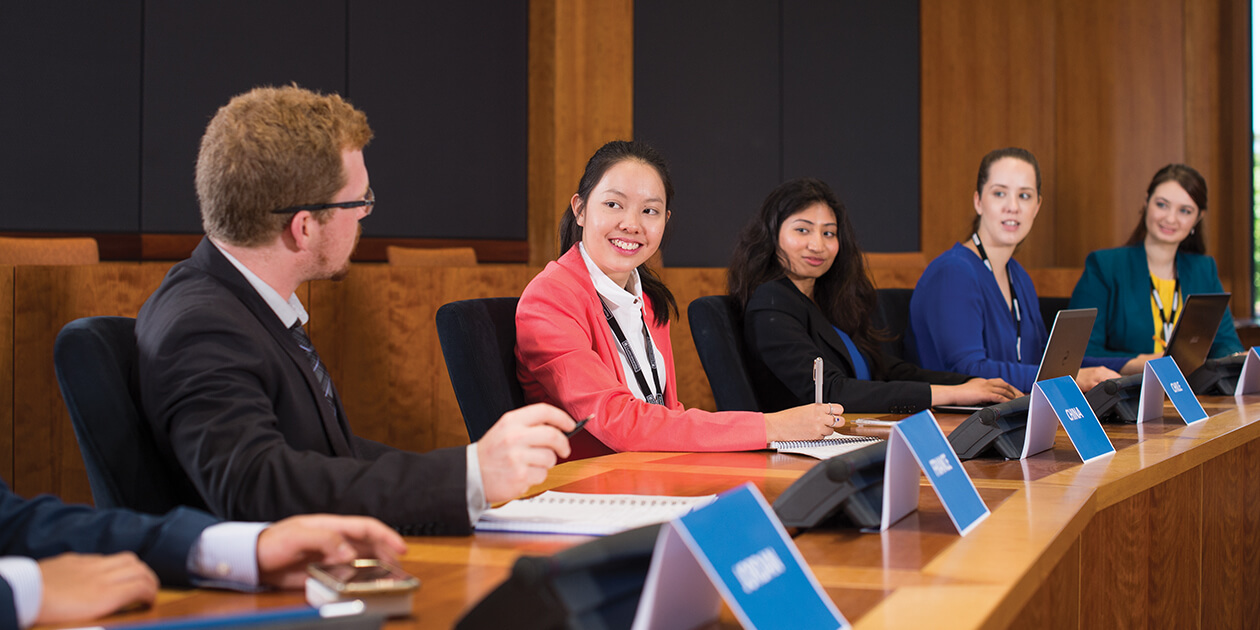 International Relations
Undergraduate Double Degree Major
MDDU-INRSE
Major

International Relations Double Degree Major (BSc/BA)
350
Outline
Study the art of diplomacy and policy-making, and explore contemporary global issues.
If COVID-19 restrictions apply, we may need to make changes to units and/or delivery modes.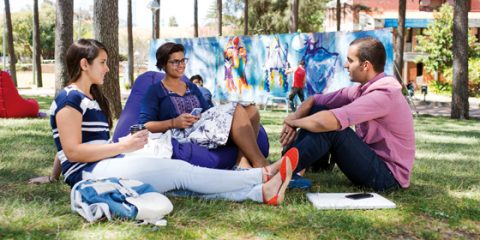 Transferable skills
Humanities courses teach transferable skills for international careers.
Global Education
You'll have access to a range of international study opportunities.
High national ranking
Curtin is Australia's top research institution in diplomacy and international relations.
The Australian's Research 2020 Magazine.
International relations is a dynamic, multi-disciplinary field that investigates the social, economic and environmental relationships between different political bodies.
This double degree major explores contemporary global issues through political theory, international relations theory, foreign policy, strategic studies and political history.
You'll study the art of diplomacy and policymaking, geopolitical change, and national and regional security in military, political and geo-economic contexts.
Political and regional globalisation are explored in-depth, with an emphasis on the Asia Pacific. International trade, environmental change, resource management and human rights issues are also examined.
You'll develop skills in critical analysis, problem-solving and written and oral communications – skills that underpin influential careers in international relations.
As a Curtin student you could also participate in an international study tour to Timor Leste.
Please refer to the handbook for additional course overview information.
How to apply
This course sits within the double degree combination of Bachelor of Science/Bachelor of Arts, Bachelor of Arts/Bachelor of Commerce, and also the Bachelor of Laws/Bachelor of Arts.
Applicants have the choice of which double degree combination they would like to study.
To apply for this course, you will apply for the most preferred double degree. In step 3 of the application process, you will be asked to confirm the major you wish to study.
Applying as an undergraduate student is easy. For information tailored to your situation, visit our easy to follow instructions to get your application started.
Ready to apply?
I want to apply for the Bachelor of Science/Bachelor of Arts
I want to apply for the Bachelor of Arts/Bachelor of Commerce
I want to apply for the Bachelor of Laws/Bachelor of Arts
Why study
Curtin's award-winning team of international experts offers you a quality education with a strong applied angle;
This major offers a multidisciplinary approach, which allows you to gain perspectives from political science, history, economics, anthropology, sociology and geography; and
You are thus provided with a unique opportunity to develop an International Relations expertise and open doors in your career in government, the business and NGO sector, or academia.
Student profile
View our student profile table to get an indication of the likely peer cohort for new students at Curtin University. This table provides data on students that commenced undergraduate study and passed the census date in the most relevant recent intake period for which data are available. It includes those admitted through all offer rounds and international students studying in Australia.
Career information
Careers
Diplomat
Embassy/Consulate/High Commission Officials
Intelligence Analyst
Signals Analyst
International Trade Policy
Strategic Policy Analyst
Cyber-Security Analyst
Research Officer
Public Servant
Law Enforcement
Defence Force Officer
UN Political Affairs
Human Rights Advocate
Multicultural Affairs Liaison
Journalist
Political Scientist
Teacher
Industries
State and Commonwealth Government
International Non-Government Organisations
International Trade
International Development
Think-Tanks
What you'll learn
demonstrate an understanding of the theoretical underpinnings of the social and political sciences; the ability to apply a political and international perspective to the study of social life
demonstrate the ability to think and analyse critically, creatively and reflectively within politics and international relations and across disciplinary boundaries
demonstrate the ability to locate relevant evidence from a wide range of sources and to make informed decisions about the significance of this information in the development of a political and international relations analysis of social life
demonstrate the ability to communicate effectively through a variety of written, oral and other formats to diverse audiences in ways appropriate in international relations
demonstrate the ability to use a variety of technologies and the ability to decide on their applications appropriately
show sustained intellectual curiosity by taking responsibility for one's own learning and intellectual development through the recognition of a range of learning strategies
demonstrate the capacity to understand socio-economic and political life in a range of local and global contexts through the recognition of international practices in political and international affairs
embrace the importance of cultural diversity and of human rights in the making of knowledge in the social and political sciences
provide both accountable and ethical prescriptions/solutions to the major issues and challenges involved in national, regional and world affairs
Advanced standing
At Curtin, we understand that everyone's study journey has been different.
You may have already studied some of the units (subjects) listed in your Curtin course, or you may have work experience that matches the degree requirements.
If this applies to you, you can apply for credit for recognised learning (CRL), which means your previous study is recognised and matched against a similar unit in your intended Curtin course.
A successful CRL application exempts you from having to complete certain units within your course and means you could finish your degree in a shorter amount of time.
CRL is also known as recognition of prior learning, advanced standing and credit transfer.
Use the CRL search to find out how much CRL you qualify for, or contact us at:
Webform: Submit here
Curtin Connect: 1300 222 888
How to apply
Please review information on how to apply for the campus of your choice
Apply now
Help
Help is at hand
See our frequently asked questions or get in touch with us below.
---
Opening hours:

Mon to Fri: 8.30am – 4.30pm, except Tues: 9.30am – 4.30pm (AWST). Closed public holidays.
Curtin course code:

MDDU-INRSE

Last updated on:

18/08/2022
Which statement best describes you?