This internet browser is outdated and does not support all features of this site. Please switch or upgrade to a
different browser
to display this site properly.
If COVID-19 restrictions apply, we may need to make changes to units and/or delivery modes.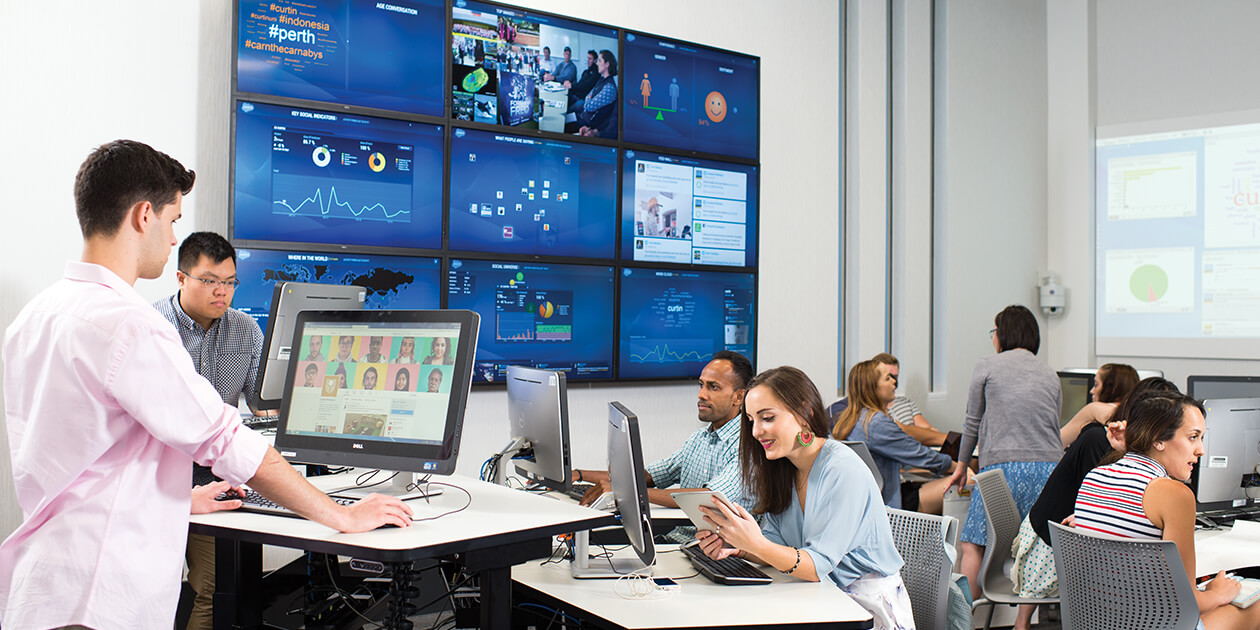 Digital and Social Media
Undergraduate Double Degree Major
MDDU-NETSE
Major

Digital and Social Media Double Degree Major (BSc/BA)
350
Outline
Explore the human side of the internet and graduate ready for roles in digital and social media strategy.
If COVID-19 restrictions apply, we may need to make changes to units and/or delivery modes.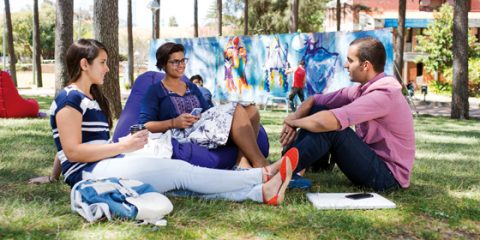 Transferable skills
Humanities courses teach transferable skills for international careers.
Five star
Five star rating for overall experience, skills development, learning resources, teaching quality, learner engagement and starting salary.
(Good Universities Guide 2021)
Specialist pathways
This major can be taken as part of a double degree.
It's almost impossible to participate in society today without using digital and social media. This course explores the social, cultural and political impacts of the internet, including the significance of social media.
You will learn the fundamentals of online communications and explore digital innovations, such as artificial intelligence. You'll understand how the internet is changing political systems and reshaping cultures, societies and economies, and how you can navigate these changes effectively.
You'll build practical and advanced skills in creating, maintaining and managing online communications across web media, publishing and presence, online collaboration, and virtual community development and management.
Upon graduating, you'll be career-ready for diverse roles in digital and social media and strategy. 
Please refer to the handbook for additional course overview information.
How to apply
This course sits within the double degree combination of Bachelor of Science/Bachelor of Arts and Bachelor of Arts/Bachelor of Commerce.
Applicants have the choice of which double degree combination they would like to study.
To apply for this course, you will apply for the most preferred double degree. In step 3 of the application process, you will be asked to confirm the major you wish to study.
Applying as an undergraduate student is easy. For information tailored to your situation, visit our easy to follow instructions to get your application started.
Ready to apply?
I want to apply for the Bachelor of Science/Bachelor of Arts
I want to apply for the Bachelor of Arts/Bachelor of Commerce
Why study
You will learn to become and independent and successful leader of digital and social media development.
You will understand the power of the internet to inform, influence and engage individuals, communities and societies.
Curtin was one of the first universities to offer a degree in internet studies, making us a pioneer in the area of internet education.
Our teaching staff are highly qualified and dedicated educators, many of whom contribute to new research into the internet and digital and social media.
Student profile
View our student profile table to get an indication of the likely peer cohort for new students at Curtin University. This table provides data on students that commenced undergraduate study and passed the census date in the most relevant recent intake period for which data are available. It includes those admitted through all offer rounds and international students studying in Australia.
Career information
Careers
Online content creator
Web designer / developer
Social media coordinator
Web communications manager
Digital producer / strategist
Data business analyst
Industries
Media and communications
Stakeholder engagement
Advertising
Marketing
Copywriter
Marketing Officer
What you'll learn
understand and apply key concepts of Internet Studies and apply trans-disciplinary thinking to the application and creation of ideas concerning networked technologies of information and communication
think critically, creatively and reflectively so as to imagine, design, use and critique networked technologies of information and communication
conduct appropriate scholarly and professional research to find, access, organise, evaluate and and synthesise information through a variety of media and apply that information to the construction of knowledge
communicate and facilitate communication through a variety of media, for different purposes, and for different audiences
use the Internet and related networked technologies of information and communication with an understanding of the complex interaction of political, cultural, and economic forces that constitutes technology as social
further develop skills and knowledge through self-directed learning
understand the complex interplay of local, national and global factors that influence and are expressed through the Internet and networked technologies of information and communication
recognise and value cultural difference and understand its significance in relation to network technologies and their use in society for communication and information
act ethically and responsibly to use, sustain and expand the social, business and cultural networks that exist via the Internet, when working independently and in teams
Advanced standing
At Curtin, we understand that everyone's study journey has been different.
You may have already studied some of the units (subjects) listed in your Curtin course, or you may have work experience that matches the degree requirements.
If this applies to you, you can apply for credit for recognised learning (CRL), which means your previous study is recognised and matched against a similar unit in your intended Curtin course.
A successful CRL application exempts you from having to complete certain units within your course and means you could finish your degree in a shorter amount of time.
CRL is also known as recognition of prior learning, advanced standing and credit transfer.
Use the CRL search to find out how much CRL you qualify for, or contact us at:
Webform: Submit here
Curtin Connect: 1300 222 888
How to apply
Please review information on how to apply for the campus of your choice
Apply now
Help
Help is at hand
See our frequently asked questions or get in touch with us below.
---
Opening hours:

Mon to Fri: 8.30am – 4.30pm, except Tues: 9.30am – 4.30pm (AWST). Closed public holidays.
Curtin course code:

MDDU-NETSE

Last updated on:

11/08/2022
Which statement best describes you?