This internet browser is outdated and does not support all features of this site. Please switch or upgrade to a
different browser
to display this site properly.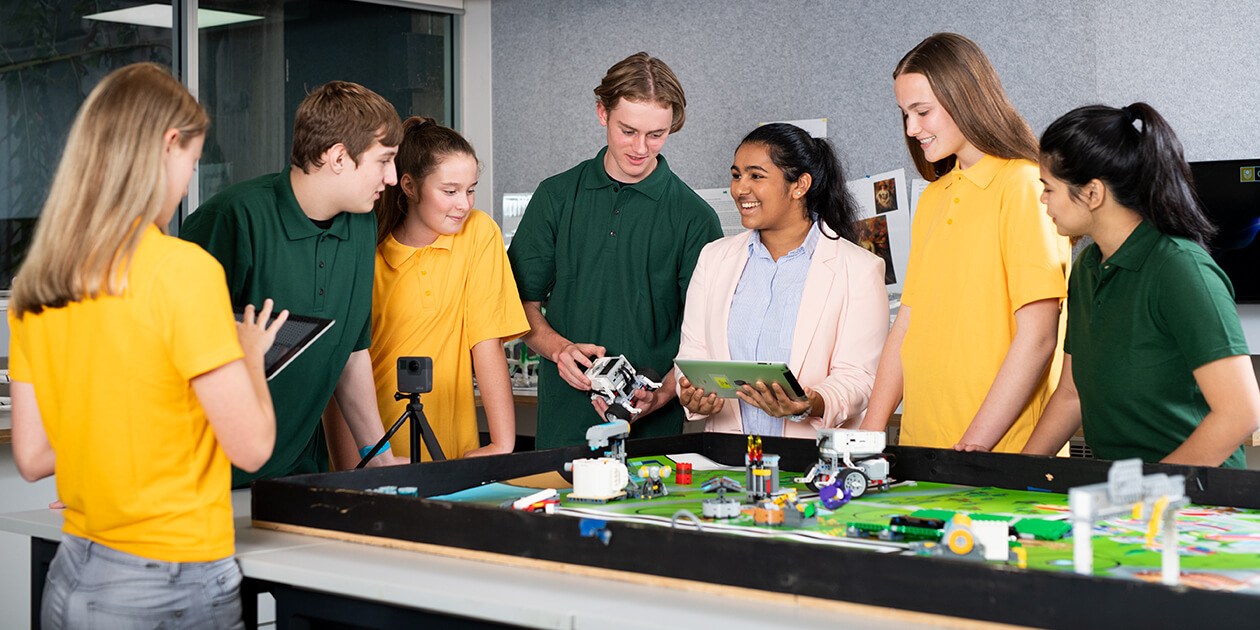 Secondary Education
Bachelor degree
The teaching qualification you need to teach children attending an Australian secondary school.
Outline
If COVID-19 restrictions apply, we may need to make changes to units and/or delivery modes.
This offering version is phasing out and no longer taking applications. You may be able to apply for a later version.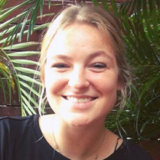 Alicia McGrade
My third prac was in Singapore, where I could immerse myself in the school community and in a different culture. I learned how to respect their different values, traditions and teaching practices. Singapore proved I have what it takes to teach internationally.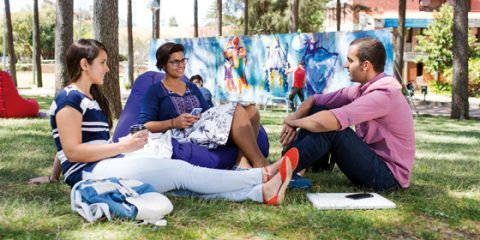 Highly ranked course
Curtin's education courses were ranked in the top 150 in the world in the 2020 QS World University Rankings by Subject.
Top 1%
Curtin is ranked in the top one per cent of universities worldwide
(Academic Ranking of World Universities 2019)
Professional recognition
Recognised by the Teacher Registration Board of Western Australia and equivalent national bodies.
Secondary educators guide their students through adolescence and prepare them for a successful life ahead.
This initial teacher education degree prepares you for a rewarding career in secondary school teaching, and enables you to pursue specialist interests. You will develop the critical knowledge and skills of best practice in education to meet the needs of 21st-century learners.
You can specialise in one or two curriculum areas, studying units that provide specialist discipline knowledge and units that develop your pedagogical knowledge.
You will also study units that establish your understanding of teaching practice, such as educational psychology, Indigenous education and teaching students with diverse learning needs.
As part of the course you will complete four professional work experience placements in schools. These placements are undertaken in full-time blocks, regardless of your study mode. You may have the opportunity to undertake a rural, interstate or overseas placement.
Teaching placements
Year 2: a two-week full-time block and three-week full-time block
Year 3: a three-week full-time block
Year 4: a ten-week full-time block (one school term)
BUILD YOUR DEGREE
STEP A: Choose your major
Your major prepares you with the content and pedagogical knowledge you will need to teach across your chosen curriculum area from Years 7 to 12, as well as in your specialist subject area in Years 11 and 12.
Choose your major from:
* Humanities and Social Sciences (HASS)
STEP B: Complete your degree structure
Complement your major with one of the three options below. This step happens after you accept Curtin's offer for your chosen major, however your choice of second specialisation is dependent upon the education major you select.
Refer to the specific majors for further information about the available second specialisations.
Option 1: A minor teaching area
Expand your scope as an educator by supplementing your major teaching area with a minor teaching specialisation from a different area of the school curriculum.
Option 2: Extend in your major teaching area
With this option you will deepen or broaden your understanding of your specialist subject area by studying additional discipline-specific units. You will also extend your curriculum and pedagogical knowledge in your chosen major.
Option 3: An education specialty
Extend your curriculum and pedagogical knowledge in your chosen major, while furthering your studies by choosing from a selection of education units.
Before you apply
You will need to submit a non-academic statement with your course application to be considered for entry to this degree. 
Please refer to the handbook for additional course overview information.
Why study
There is a current shortage of secondary education teachers in Australia, and consequently there is a high uptake of graduates by employers.
Curtin's Education courses were ranked in the top 150 in the world in the 2020 QS World University Rankings by Subject.
Staff teaching in the Secondary Education program are active researchers and scholars who represent a high level of expertise in their disciplinary fields from across the University.
Curtin has a long commitment to the area of STEM (Science, Technology, Engineering and Mathematics) which are key areas of focus in education.
You will be immersed in a technology-enhanced learning environment where group interaction and collaborative activities will develop your teaching capability.
This course integrates education theory with classroom practice for all areas – you will undertake 18 weeks of supervised teaching experience in schools throughout your degree.
The School of Education receives consistently positive feedback from employers, who say Curtin graduate teachers are of excellent quality and well prepared for the education industry.
How this course will make you industry ready
All units are mapped to the Australian Professional Standards for Teachers, ensuring you graduate with the relevant competencies required to teach successfully.
You will build a professional digital portfolio that showcases your teaching abilities to potential employers.
You will complete 18 weeks of teaching practice over the course of your studies, including a 10-week internship where you will have responsibility for students' learning, under the mentorship of a qualified teacher.


Student profile
View our student profile table to get an indication of the likely peer cohort for new students at Curtin University. This table provides data on students that commenced undergraduate study and passed the census date in the most relevant recent intake period for which data are available. It includes those admitted through all offer rounds and international students studying in Australia.
Professional recognition
This course is accredited by the Teachers Registration Board of WA, and is recognised nationally as an initial teacher education qualification. Graduates can register as a teacher in Australia and other countries that recognise Australian teaching qualifications.
Career information
Careers
Secondary school teacher
Policy development officer
Special programs officer
Trainer, mentor or coach
Curriculum designer
Industries
Education (government and non-government)
What you'll learn
apply discipline knowledge, principles and concepts associated with effective teaching of secondary school students.
critically evaluate and synthesise theory, research and practice to apply knowledge of the needs of students from diverse backgrounds and across the full range of abilities to enhance learning.
assess student learning and analyse diverse sources of data to support valid judgements of student learning.
plan and deliver effective teaching and learning experiences with demonstrated impact.
select, curate, use and create a range of digital resources and technologies to support learning and teaching.
demonstrate responsibility and accountability for being a life-long learner, identify and engage in professional learning; demonstrate personal literacy and numeracy competencies to the required accreditation standard.
engage in a continual cycle of improvement through critical and reflective practices including those based on local, national and global research and evidence-based practices.
create, lead and maintain positive learning environments for all students, including those from diverse cultural backgrounds.
communicate professionally and engage collaboratively with colleagues, students, parent/carers, and the community.
Admission criteria
Curtin requires all applicants to demonstrate proficiency in English. Specific English requirements for this course are outlined in the IELTS table below.
IELTS Academic (International English Language Testing System)
Writing
7.0
Speaking
8.0
Reading
7.0
Listening
8.0
Overall band score
7.5
You may demonstrate English proficiency using the following tests and qualifications.
Applicants must also meet the non-academic entry requirement for all Initial Teacher Education Courses. For further information please see the Non-academic entry requirement. The questionnaire must be completed no more than one year prior to application.
Please note: Credit is rarely given on the basis of professional experience only in Initial Teacher Education degrees as graduates must meet registration requirements set by the accrediting bodies in each state/territory.
Other requirements and notes for this course
All students are required to successfully complete four compulsory professional experience placements in schools as part of designated units throughout the course. These placements must be undertaken in registered schools where the language of instruction is English.
Placements are undertaken on a full-time basis for the number of days shown in a continuous block and students need to plan carefully to ensure they are able to meet this commitment. The total number of days of professional experience in the course will satisfy all states' requirements for teacher registration.
None of the four professional experience placements can be broken or split into shorter periods.
No more than 25% of professional experience days may be undertaken in schools outside Australia. Therefore, students will only be able to complete one 3 week placement outside Australia and will be required to complete all other placements within Australia.
Students will be required to have a current and valid Working with Children clearance as required by the state or country in which the placement provider is located. They will also need to meet any other relevant State requirements before engaging in any work with children or professional experience. If students have any doubt about their eligibility to acquire these clearances they should contact the local Teacher Registration Authority.
Students are required to provide evidence of successful completion of the Literacy and Numeracy Test for Initial Teacher Education students (LANTITE) prior to graduation/completing their course. The test is managed by ACER and details of the test (for example, sample questions, the Test Window dates, and registration) can be found at: https://teacheredtest.acer.edu.au/.
Students are responsible for meeting the costs associated with taking these tests, which are a national requirement applicable to all teaching graduates. Students are expected to successfully complete the LANTITE between the first and third professional experience units in their course.
In addition to the course-specific admission criteria listed above, please read our general admission criteria. Our general admission criteria apply to all courses at Curtin University.
In addition to the course-specific admission criteria listed above, please read our general admission criteria. Our general admission criteria apply to all courses at Curtin University.
Essential requirements for admission (including fieldwork requirements)
Many of our courses require students to comply with additional essential requirements. Failure to comply with any of the essential requirements may potentially prevent the successful completion of the course and/or achieving professional registration.
Advanced standing
At Curtin, we understand that everyone's study journey has been different.
You may have already studied some of the units (subjects) listed in your Curtin course, or you may have work experience that matches the degree requirements.
If this applies to you, you can apply for credit for recognised learning (CRL), which means your previous study is recognised and matched against a similar unit in your intended Curtin course.
A successful CRL application exempts you from having to complete certain units within your course and means you could finish your degree in a shorter amount of time.
CRL is also known as recognition of prior learning, advanced standing and credit transfer.
Use the CRL search to find out how much CRL you qualify for, or contact us at:
Webform: Submit here
Curtin Connect: 1300 222 888
Fees & charges
Fee information is not available for this course at this time. Find estimated course fees.
Help is at hand
See our frequently asked questions or get in touch with us below.
---
Opening hours:

Mon to Fri: 8.30am – 4.30pm, except Tues: 9.30am – 4.30pm (AWST). Closed public holidays.
Which statement best describes you?