The soaring cranes above Curtin Perth symbolise the wave of construction activities transforming the campus. But how do you manage a towering building project on a busy university site? Or during a global pandemic? Curtin graduate Evie Greenwood shares her insights.
Greenwood is one of the site engineers for Curtin's expansive new facility for the School of Design and the Built Environment (DBE).
The striking five-storey building is part of Curtin's new Exchange precinct and will include dedicated learning and research spaces, a makerspace, a workspace for staff, and industry, retail and exhibition areas.
"Working on DBE has been amazing," Greenwood smiles. "Every day is different and I'm constantly kept on my toes.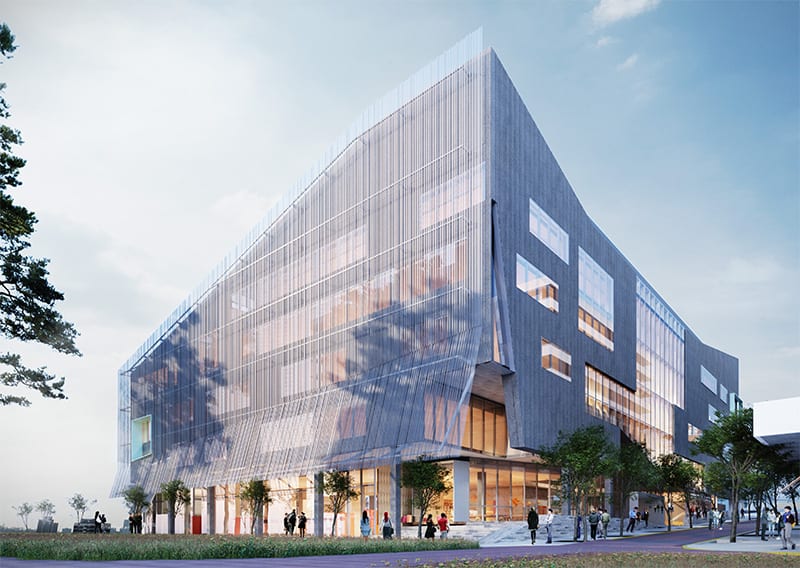 "As a graduate site engineer, I'm responsible for making sure what's on the drawing happens out on site. That means conducting quality checks, liaising with contractors, clients and engineers, filling in vital paperwork, chasing down sub-contractors and a million other things!"
For the past six months, Greenwood has been part of the build's 'structure' team, receiving ongoing training and learning on the job.
"It might sound strange but I could watch concrete pours over and over!" she laughs. "Most people don't realise how many concrete pours are required in a building! It's not just creating the soffit and floors, but also the columns, ramps and items like planter walls."
Greenwood says she acquired many of the necessary skills during her Curtin applied science degree in construction management.
"We were taught how to calculate the stress and strain of concrete and the importance of reinforcement," she explains.
"Reinforcement is vital in construction as concrete can shrink and crack. Structural steel bars give the concrete greater strength to resist 'directional pulls' at junctions in the slab."
High-quality construction challenges
The Curtin graduate says it has been fascinating to get hands-on experience in the same location she gained her degree.
"I've learnt so much more about the campus," she says. "Constructing a facility at a university presents lots of unique challenges!
"Most importantly, we need to work hard to keep staff and students safe. But we also have to operate under a certain decibel [level] on site, respect exam periods, create special routes for delivery drivers with larger vehicles and be aware of noise impacting surrounding buildings. It often means working more unusual hours – like night shifts."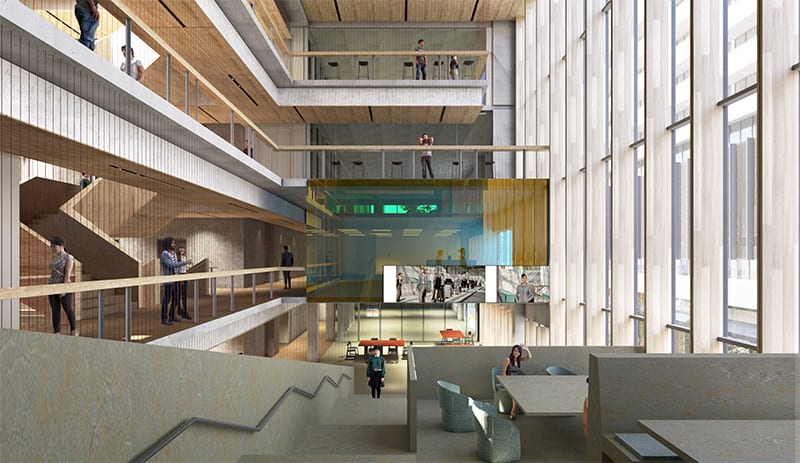 The building too has unique requirements. With its thermochromic glazing to reduce heat, a rainwater harvesting system and water-efficient fixtures, fittings and solar panels, sustainability is central to the project.
"Curtin is targetting a '6-Star Green Star' sustainability rating," Greenwood explains. "We're aiming to achieve well over the 75 points required. To give us a buffer, as things never go exactly to plan, we're using materials that have an Environmental Product Disclosure, low VOC paints, adhesives and many more.
"It's my job to chase down all the documentation which can be a challenge!"
The busy graduate explains the next step is the façade of the building.
"The façade of the building has a lot of 'pre-cast'. When you cast concrete, it reflects exactly what's there, like a sponge, so if you don't get the full length cast perfectly, you notice the blemishes instantly.
"This finish is not done very often in Perth so we had to research extensively to find the right sub-contractors who have experience working on high-end finishes."
Construction in the time of COVID-19
Alongside the challenges of building a high-quality construction on a busy campus, Greenwood is now navigating work in the middle of a global pandemic.
"Constructing the building during the COVID-19 pandemic has added a lot more risk," she says.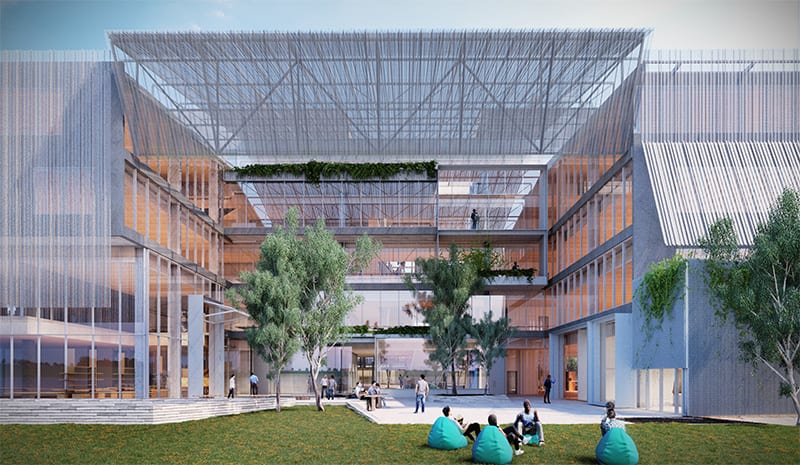 "We've introduced thermal scanning on site. Everyone gets their temperature checked every day and has to answer questions about their exposure to COVID. We also stagger start times and lunch breaks, have split the team across two site offices and of course, adhere to the 1.5 metre distancing rule."
Greenwood says once the scale of the pandemic became clear, the team introduced further changes.
"We quickly produced a 'coronavirus mitigation register' to send to our contractors to find out whether our supply of products would be impacted," she explains. "That helped us plan ahead. We've also had to navigate a reduced workforce as many people have chosen to stay home."
The team is using the Enablon app to increase safety on site, conduct observations and ensure protocols are respected.
A unique opportunity
Greenwood says she secured her dream position in the final year of her degree.
"As part of my Curtin course I completed work experience as a quantity surveyor," she explains. "I loved the experience of going out on site so when I learned that Lendlease was offering a fourth-year Curtin student the chance to work on a major construction project and join their graduate program, I jumped at the chance!"
Lendlease, Australia's largest property development and construction company, was so impressed by Greenwood's application that she was offered the role less than 24 hours later.
"It was a whirlwind!" she laughs. "I'm so glad I took a chance on a construction career. I would 100 per cent recommend this degree to others who are looking at a career in project management or construction. Curtin is the only uni in Western Australia to offer this degree and it's given me so much exposure to different industries and opportunities."
To women interested in pursuing a career in the field, Greenwood also has some advice.
"Get out there!" she says. "You build your skills through confidence and you build your confidence through exposure. Don't be afraid to get your hands dirty. Jump in and excel!"
Learn more about the DBE project.