Support truth-telling
Art is as a common language that provides an access point for seeing the world beyond one's previously held convictions and for deepening one's understanding. The Carrolup artworks are a crucial common language: they illuminate a dark history and help us better comprehend the impact of intergenerational trauma. The works also speak to the steadfast resilience of Aboriginal people, against the greatest of odds, and their deep, spiritual connection to Country.
Through the artworks, we are committed to working with and for others to share the stories of the Stolen Generations and of other dispossessed peoples through education and community engagement programs.
There are many ways to walk with us on this truth-telling journey.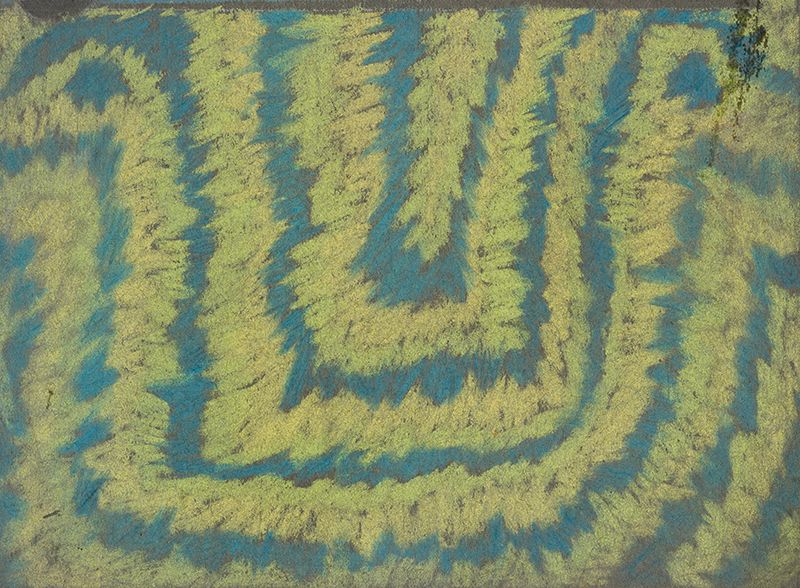 Image above: Once known child artist, Untitled c1949, pastel on paper, 128mm x 176mm. The Herbert Mayer Collection of Carrolup Artwork, Curtin University Art Collection. Gift of Colgate University, USA, 2013. Image reproduced with permission of the Carrolup Elders Reference Group.
Individual support
Supporting truth-telling to better understand our shared past
The Carrolup Centre for Truth-telling has been made possible through the generosity of the community. Your donation contributes directly to supporting the education and engagement programs that enable the voices of the Stolen Generations to be shared far and wide. It is this voice that provides the opportunity to better understand our shared past to help us walk forward together towards a reconciled future.
Support truth-telling
Carrolup Circle
For organisations committed to truth-telling
The Carrolup Circle contributes meaningfully to reconciliation in Australia by supporting collaborative truth-telling and community engagement activities. The lens of Stolen Generation children's artwork provides a gentle yet profound way of seeing the past with truthful clarity. Reflections follow on how these children remained connected to Country and customs despite being cast into the Carrolup Native Settlement. We invite organisations with a deep connection to reconciliation in Australia to join the Carrolup Circle.
Caring for Carrolup
Supporting the care and preservation of the Carrolup artworks
At the core of the Carrolup Centre for Truth-telling are the artworks. They were created with only the most rudimentary of materials – primarily chalk, pastels, and paper. These artworks are very fragile, requiring constant care and conservation for the benefit of future generations. It is important they be maintained in excellent condition for their intrinsic and historical value. In order to help cover the work of conservation, we are offering an opportunity for individuals, corporates and foundations to care for an artwork.
Other ways to be involved
Reach out and have a yarn with our Carrolup team
The Carrolup Centre for Truth-telling has many unique opportunities to be involved in the delivery of truth-telling and reconciliation through exhibitions, education, research, community engagement and exhibition programming. Reach out and book a yarn with our Carrolup team to discuss upcoming exhibitions programs and engagement programs
Stay up to date
Truth-telling starts with sharing
Join our Carrolup Centre for Truth-telling mailing list to be updated on initiatives directly related to the Carrolup Centre for Truth-telling and join our Truth-telling Facebook group
Join the John Curtin Gallery mailing list to stay up to date on all exhibitions and programs related to local and global perspectives on human rights, sustainability, inclusiveness and reconciliation.