FIRST Robotics Competition Team
Our FIRST Robotics Competition (FRC) team gives participants the opportunity to work in a team to design, prototype, build, and program, a large robot. This robot will then compete in Sydney with the team, in late March.
The team will also compete in August at the West Australian Robotics Playoffs.
This program initially takes place at Curtin University, and is for students aged 14-18.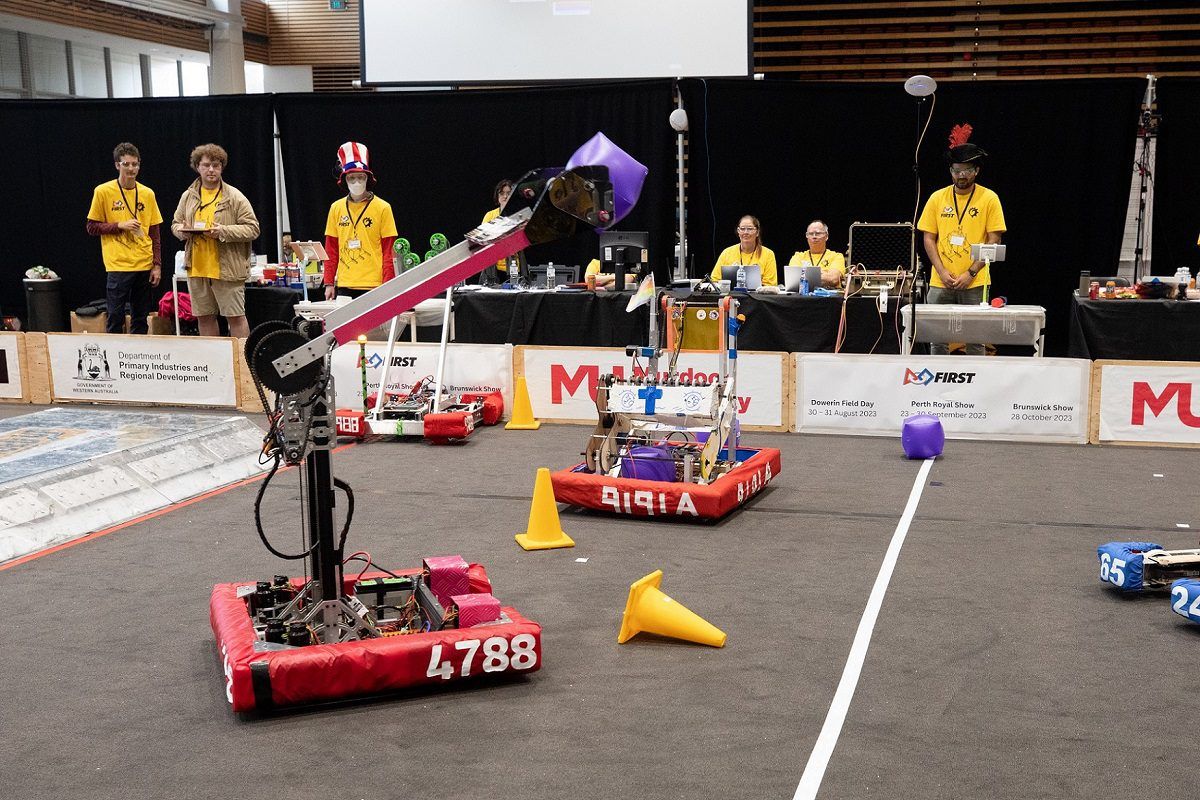 Our Team
Our team spans the year with consistent meetings and work. We aim to be competitive at all events we attend, Sydney, Texas, WARP. But being a team means so much more than that to us, our team strives to build robotics in schools across WA. Our university and industry mentors are also here to support students beyond our robot and team, students are welcome to bring their homework or projects for guidance.
Mechanical
Participants will have the opportunity to design, manufacture, and assemble the robot using industrial materials and resources.
Whilst students will be guided by our mentors, the students are in charge and responsible for every step of the process, the choices are theirs to make!
Programming
With mentors to guide and teach, our students learn how to code in multiple language with a focus on C++, an industry standard for robotics and automation!
Programming is an important part of controlling and automating our robot.
CAD
Team members will not only have access to start of the art industrial Computer Aided Design (CAD) software, but training from university staff and students.
Computer design is vital to the engineering process as it allows us to visualise our final robot without risking cost, it also allows us to create working drawings to have consistent manufacturing and to utilise CNC mills, Lasers, and 3D printers.
Business and Marketing
As a team we need to brand ourselves and show off our amazing work! This is where our marketing team comes in, a student run social media team creates our posts and publishes them to world. Our business team plan's fundraisers and hunts for sponsors.
Are you up to the FRC challenge?
FRC is a real engineering challenge. Not just the robot, but working as a team, marketing, sponsorship, design, events, organising, planning, teaching.
To get involved or for further enquiries, email Tim Keely at T.Keely@curtin.edu.au or the FRC staff at FIRSTRoboticsTeam@curtin.edu.au.